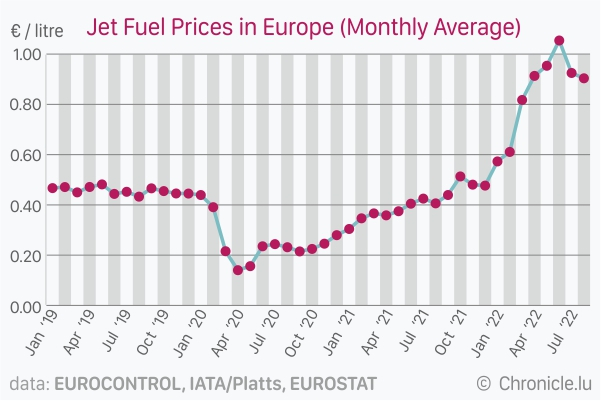 Jet fuel prices in Europe have more than doubled in the span of one year, the European Organisation for the Safety of Air Navigation (EUROCONTROL) has shown.
According to data from this pan-European aviation organisation, European jet fuel prices inceased by 122%, from an average of €406.44 per thousand litres in August 2021 to an average of €903.70 per thousand litres in August 2022.
Similar to other energy products, such as diesel, petrol and gas, which have a direct impact on household consumption, jet fuel prices have also come under acute inflationary pressure since the beginning of 2022.
Following the abrupt decrease in passenger flights during the COVID-19 pandemic in the first half of 2020, jet fuel prices were heavily discounted and dropped by nearly 70% in April 2020 to an average of €140.38 per thousand litres, compared to the average of €456.85 per thousand litres in 2019.
Since then, jet fuel prices have been increasing steadily and reached pre-pandemic levels in late 2021. However, following the Russian military invasion of Ukraine in February 2022, jet fuel prices jumped by 33.82% in one month, from €611.03 per thousand litres in February 2022 to €817.67 per thousand litres in March 2022. Jet fuel prices were at an all-time high of €1,054.23 per thousand litres in June 2022 (note that data is available since 2014).
Jet fuel prices in August 2022 were still up 57.67% compared to January 2022 prices, before the Russian invasion of Ukraine.
According to the International Air Transport Association (IATA), an association of over 300 airlines, the gap between crude oil and jet fuel prices were negligible until mid-2021 but since the beginning of the war in Ukraine in February 2022 and the insufficient crude oil supply, jet fuel prices have risen more quickly than crude oil prices, putting downward pressure on airline financials.