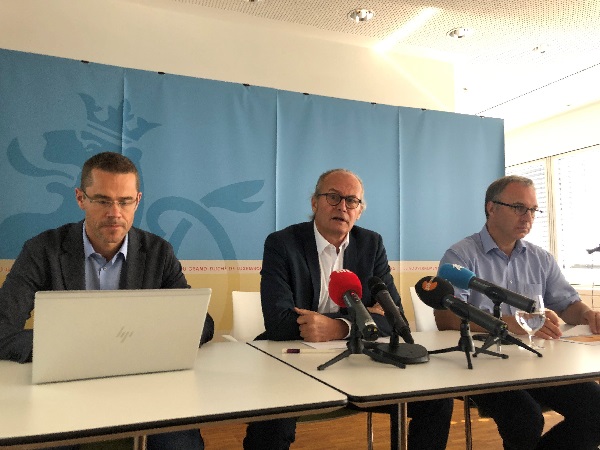 L-R: Georges Reding, Director of Renewable Energy; Claude Turmes, Minister of Energy; Gilber Theato, Director of MyEnergy; Credit: MEA
At a press conference on Tuesday, Luxembourg's Minister of Energy, Claude Turmes, reviewed the progress made in renewable energy production and presented a new initiative to accelerate the development of solar energy in the Grand Duchy.
The Energy Minister confirmed that Luxembourg is on track to achieve its 11% renewable energy target by 2020. Indeed, the field of renewable energy development has experienced huge growth over the last ten years (and even more so in the last two years). For instance, wind energy has increased by 410% in the last decade and has made significant progress since 2016. Similarly, solar energy saw an increase of 533% and the installation of about 7,000 solar panels between 2008 and 2018.
Moreover, 74% of household energy consumption was covered by national renewable energy production in 2018, with further projects underway expected to increase this development in 2019 and 2020.
In the field of renewable energy development, however, the increasing energy consumption of Luxembourg's transport sector alone (which currently covers 60% of energy consumption) puts the climate goal at risk. At the same time, Luxembourg needs to strengthen its efforts in the field of renewable electricity generation, since solar potential is currently under-exploited in the country.
At today's press conference, Luxembourg's Minister of Energy also launched a call for tenders for the construction and operation of new solar power plants with a total surface area of 40 MW. The aim is to produce energy for 27,000 residents. Bidders offering the most advantageous price will receive a 15-year premium of market contract for the production of this electricity. The deadline to submit a tender is 16 March 2020.
Further information can be requested via e-mail: pv@energie.etat.lu.