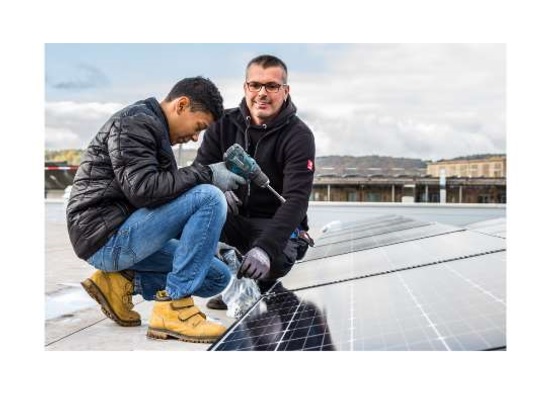 Youth Solar Project in Differdange (2017); Credit: Thoma Forgiarini / Greenpeace
The municipality of Mamer has announced details of a Youth Solar initiative, launched by Greenpeace Luxembourg, which has allowed the municipality to "kill three birds with one stone": to contribute to climate protection, to save money and to engage the youth of the municipality in sustainable development.
With the support of young people in Mamer, the municipality is installing solar panels on the roofs of a municipal building.
The initiative involves no less than 368 solar panels which have a "European Recycling Platform" label. With each being, the total output is 119.60 kwp meaning that it is the largest such solar installation in the municipality; the annual output is estimated at 113,000 kWh which corresponds to the annual electricity consumption of 26 homes. The initiative represents a saving of 67.8 tonnes of CO2 annually which is equivalent to 410,000 km travelled by car or 195,000 litres of mazout.
The Youth Solar initiative is an initiative from Greenpeace Luxembourg, which has launched this specific project in collaboration with the municipality of Mamer, the Maison des Jeunes Henri Trauffler, Arcus - am Déngscht vu Kanner, Jugend a Famill, Paul Wagner et fils and Enovos.