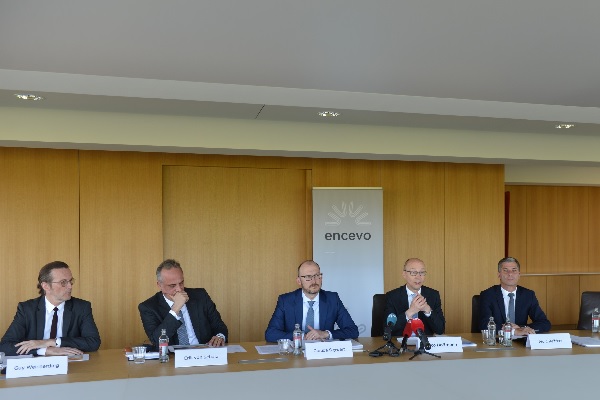 L-R: Guy Weicherding (CFO Encevo); Erik von Scholz (CEO Enovos Luxembourg); Claude Seywert (CEO Encevo, Executive Committee chair); Marco Hoffmann (Encevo Board of Directors chair); Marc Reiffers (CEO Creos); Credit: Encevo Group
On Wednesday 15 May 2019, Luxembourg-based Encevo Group announced its financial results for 2018.
Despite the challenges of an ever-changing energy market, the Encevo Group reported solid results last year. Net income for 2018 amounted to €63.9 million (compared to €55.7 million in 2017) and EBITDA reached €213.3 million (compared to €193.6 million in 2017). The Encevo Group was able to increase its volumes in terms of energy sales for both electricity and natural gas in a highly competitive environment.
The year 2018 also saw the Group develop in the field of technical services, as illustrated on the one hand by the acquisition of Paul Wagner & Fils and on the other hand its cooperation with the Federation of Artisans for the creation of the "diego" platform. Thus, the field of technical services (grouped under the entity "Enovos Services") forms the third pillar of the group alongside the traditional activities that are the operation of networks by Creos and the supply of energy and renewable energy production.
In terms of investments, the group once again increased its efforts with a total of €209 million (compared to €199.7 million in 2017). For its part, Creos Luxembourg made a record investment of €132 million. The grid operator has started the construction of a new headquarters in Luxembourg and a new dispatch centre in Bettembourg, while continuing the expansion and renovation of the electricity and gas networks. Added to this is the continued deployment of smart metres, 105,000 of which were installed in 2018 for electricity and 17,400 installed for gas. As such, more than two-thirds of the planned metres have been deployed (out of 177,000 and 29,000 respectively). The number of Chargy charging stations also increased to 245 terminals now available in Luxembourg. For Enovos, the year was marked by success in the first public call for tenders for photovoltaic installations with a power of more than 500 kWp. The 11.5 MW of additional power installed by the end of the year included the first major solar installations on the ground. At the same time, the wind projects developed through Soler (a joint venture between Enovos and SEO) have been continued and 9 MW of additional capacity should be connected to the grid by 2020.
In 2018, Encevo Group employed 1,948 people (compared to 1,609 in 2017), a growth which was mainly due to the acquisition of Paul Wagner & Fils.