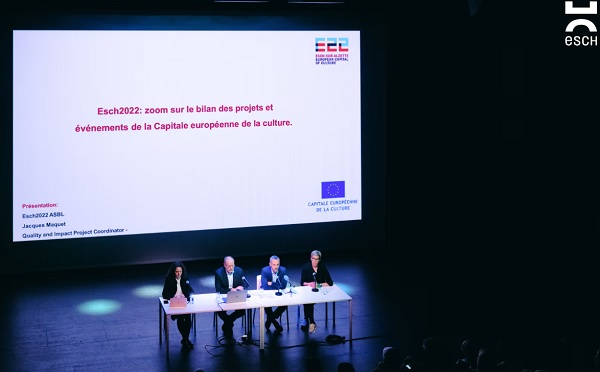 Credit: Esch2022
The Esch2022 - European Capital of Culture team has presented the final reports and figures for this cultural programme.
Following the official handover of the title of European Capital of Culture in Athens, Greece in January 2023 to the current holders in Europe and the subsequent handover from the "Capitale européenne de la culture 2022 asbl" to the Luxembourg and French municipalities that jointly bore the title of European Capital of Culture 2022, the organisers presented the latest results of Esch2022 at a press conference at the Artiston theatre in Esch-sur-Alzette on Tuesday 23 May 2023.
Complementing the preliminary balance sheet with initial figures and information on the project's legacy, as well as the presentation of the results of three studies in cooperation with Ilres, which were presented at the end of February 2023, the presentation now included the results of the reports of the approximately 160 project partners, their experiences and assessments, as well as comprehensive statistics, for example regarding visitors. The presentation included speeches by Luxembourg's Minister for Culture, Sam Tanson, and the President of Esch2022, Georges Mischo, as well as Jacques Maquet, Quality and Impact Research Coordinator Esch2022.
A total of 512,000 visitors, mainly from Luxembourg (60%) and France (27%), attended the 1,351 events and the corresponding 3,145 cultural activities that took place as part of the Esch2022 project in the years leading up to and during the year itself, as well as in its closing phase at the start of 2023. A total of 1,789 artists were actively involved in the programme, with more than 600 residing in Luxembourg and over 400 living in France.
This latest presentation also revealed that each of the 160 project partners that emerged from the public call for projects in 2019 had several partners of their own, particularly the Esch2022 municipalities, public cultural institutions and non-profit organisations or foundations.
The tourism sector also reportedly benefited from Esch2022, with a 23% increase in tourist arrivals and a 38% increase in overnight stays in 2022 compared to 2019 (preliminary data from Luxembourg for Tourism).