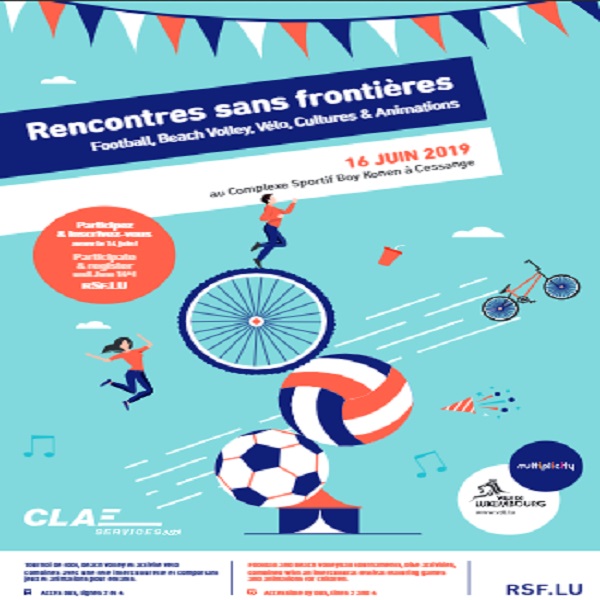 Credit: VdL; CLAE
Registrations are now open for the sports and intercultural day "Rencontres sans frontières", taking place on 16 June 2019 at the Boy Konen sports complex in Cessange from 08:00-20:00.
"Rencontres sans frontières", organised by the Ville de Luxembourg in collaboration with the CLAE (Liaison Committee of foreign associations), focuses on sport and intercultural exchanges and reflects the desire to promote the integration of the multiple nationalities present in Luxembourg City through sport and culture. Indeed, more than 70% of citizens living in the capital are of foreign origin (168 different nationalities).
On the agenda this June is football and beach volleyball tournaments, Bike Park Boy Konen cycling activities and a family-friendly intercultural festival. Each football tournament is open to men and women (and boys and girls aged 6 or over) and will be played with teams of six players, one goalkeeper and two players/reserve players. The matches will last between 15 and 30 minutes; the exact duration will be determined after the closing of registrations. In order to mix the different cultures, each team will have a maximum of four players of the same nationality. Several tournaments will be played in different age categories.
The beach volleyball tournament is open to men, women and young people from 13 years old. The teams will be composed of at least two different nationalities and at least two players for 5 members per team.
Many activities are also planned from 12:00 at the Bike Park Boy Konen, from Table-Line and North Shore to Pumptrack and BMX-Track. Registrations will be done the same day from 10:00. Bicycles will be available to participants according to stock availablity. The minimum age of participation is 10.
Throughout the day, various activities will be offered to children and adults alike: sports workshops and demonstrations, music and dances, children's entertainment ... In addition, many food stands will allow spectators and participants to discover the specialties of different countries and enjoy an exceptional culinary journey.
Individuals or teams wishing to participate in "Rencontres sans frontières" and associations or groups wishing to propose an activity or a stand can register from 1 March 2019 on www.rsf.lu, via email: rsf@optin.lu, via tel.: (+352) 691 712 700 or via fax: 26 45 92 05. Registration is subject to available spaces.
Participation is free.