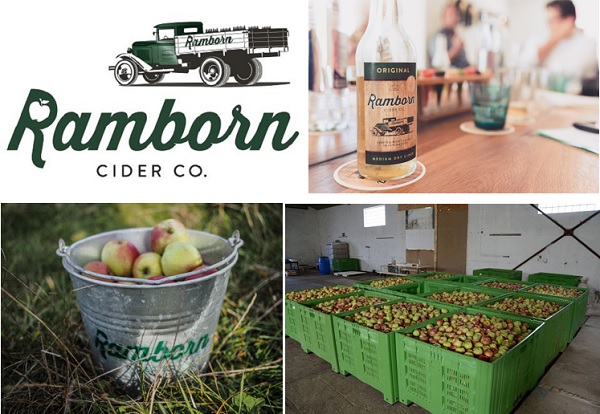 The Irish Club of Luxembourg will be having a guided tour of the Ramborn cider- and juice-making facility in Born (located between Wasserbilling and Rosport) on Saturday 9 October 2021.
This event follows on from other recent such club-organised guided tours which proved to be very popular indeed - of the Bofferding brewery, the Bernard-Massard wine-making cellars in Grevenmacher, and the underground mine museum in Rumeldange.
At the Ramborn facility (housed in beautifully-restored buildings), we will be there in the middle of the most exciting time of the year, harvest! We will be led in groups of 10 people to learn about how the apples and pears that are grown exclusively in traditional orchards (home to more than 100 different apple varieties) are pressed, fermented, matured and blended. We will learn about cider and apples in Luxembourg, taste the ciders and juices and explore the traditional orchards.
The guided tour covers the history, a short film, a tour of the cellar and also of the production line; it is suitable for all ages.
The lunch afterwards will comprise: "pain surprise", apple pie, freshly-pressed apple juice (a keg of cider will also be opened just for our group) and also water and coffee.
Cost: €30 for club members (€36 for non-members; €20 for children U12). For those who cannot stay for the lunch, the cost is €20 (tour only).
Time: Please arrive in good time for a 10:30 start. The tour and tasting will take around 90 minutes and will be followed by the lunch. There is a shop, terrace and visitor centre on site.
Address: 23 Duerfstrooss, L-6660 Born. There is parking on site.
To reserve your place, please contact Fiona at email: fiona.mulhern@gmail.com, indicating your name and the number of people participating. Please also transfer the required amount to the ICL's bank account at IBAN LU08 0030 2513 4451 0000 to confirm your place.
Future Diary Dates:
- Sat 9 Oct: Ramborn Guided Tour
- Oct/Nov: Sponsored Walk
- Sun 28 Nov: Sunday Brunch
- Sun 5 December: Children's Christmas Party
- Feb 2022: Quiz
- Sun 20 March 2022: St Patrick's event
- Sat 2 April 2022: Family Event
For further details about the club and membership (€15 individual; €30 family), see https://www.irishclub.lu