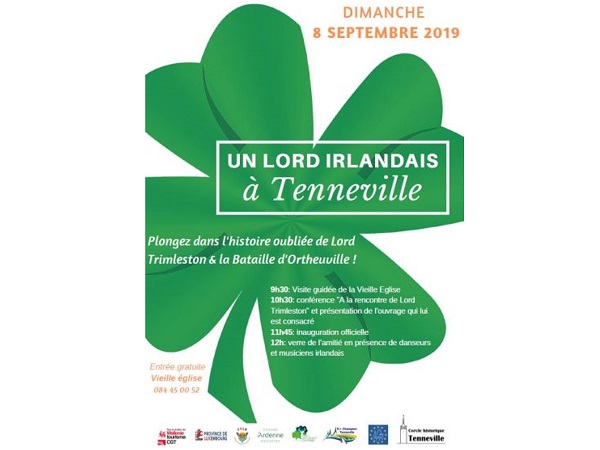 The Luxembourg branch of Comhaltas Ceolteoiri Eireann has announced that it is organising a trip to Tenneville, a Walloon municipality located in Belgium's province of Luxembourg, on Sunday 8 September 2019.
During the trip, Comhaltas will unveil a plaque dedicated to Irish veteran Matthias Barnewall before showcasing an exhibition of Irish music and dance.
Less than two kilometres away from Tenneville is the site where the Battle of Ortheuville took place on 10 September 1692. It was a minor confrontation that formed part of the Nine Years War that lasted from 1688 to 1697 between France and a European coalition of Dutch, German and British armies. General D'Harcourt led a force of 3,500 men including Irish cavalry against a similar sized force of Germans from Brandenburg. It was a brief encounter, Harcourt ordered his cavalry to charge before the Germans had established their lines and they routed the enemy.
From an Irish perspective, the victory had a bitter taste as amongst the fallen was Matthias Barnewell, Lord of Trimleston from county Meath. Aged only 22, he was already a veteran who had been present at the Siege of Limerick where he was an exchanged hostage and who had left Ireland with Patrick Sarsfield and 20,000 other soldiers after the infamous Treaty of Limerick.
Barnewall was buried at the Church of St Gertrude in Tenneville where a large tombstone was laid to commemorate him. The belfry of the church had been refurbished in 1682 and the church was a new building at that stage. In the centuries that followed, the church fell into neglect and was finally deconsecrated in 1957. The church was classified as a national monument in 1985.
On Sunday 8 September, as part of the National Heritage day celebrations, a plaque will be unveiled to explain the significance of the tombstone. From a local perspective, the tombstone highlights how that part of Belgium was once the front line of a pan-European conflict. From an Irish perspective, the tombstone represents the start of a terrible decline as the young officer that died was part of an elite who left Ireland in the hope of returning to reclaim their country. Instead, the Wild Geese were to fight and fall at many battles around Europe. Sarsfield too died a year later and was buried at Huy.
The trip will start at 09:30 with a free guided tour of the old church, followed by a conference entitled "A la rencontre de Lord Trimleston", as well as a presentation of the work dedicated to him, at 10:30. The official inauguration will then take place at 11:45. The trip will end with a "verre de l'amitié", in the presence of Irish dancers and musicians, at 12:00.
Those interested in joining the trip should reserve a place via e-mail: comhaltas.lu@gmail.com.