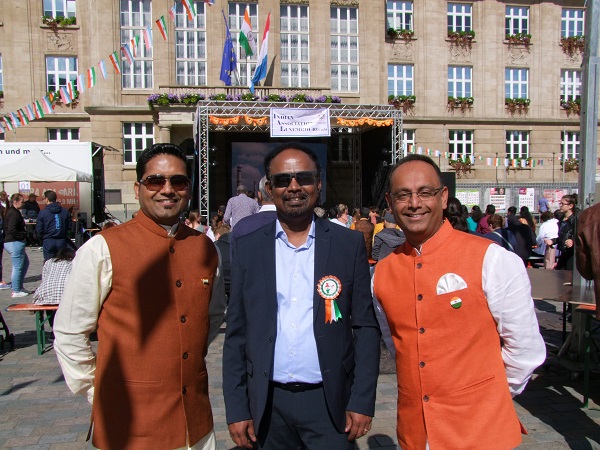 IAL Committee Members (L-R): Sati Ramesh Chander; Selvaraj Agumalai (President); Niraj Trivedi;
On Saturday 15 September 2018, the Indian Association Luxembourg (IAL) held the third edition of India Day which was held in front of the Hotel de Ville in Esch-sur-Alzette which flew the Indian flag for the day, alongside those of the Grand Duchy and the EU.
This event had been held in previous years on Place d'Armes in Luxembourg-ville; this year the bold decision to hold the colourful and high-energy event in the south-western second city of the Grand Duchy was an opportunity for the Indian community to come together and showcase their culture, traditions, cuisine and sense of community as well as openness and inclusivity.
The sun shone on the square, with around 15 tented stalls facing inwards to a large covered stage which hosted a myriad of song and dance routines from members of the Indian community here. While some were performances highly appreciated by the enthusiastic audience sitting on the benches provided, many encouraged audience involvement, with dozens of people dancing in front of the stage. Various Indian restaurants, as well as the IAL, offered various snacks and meals from their stalls, with another selling Indian silk scarves, etc.
The Indian Embassy from Brussels held a Consular Camp, and the Indian tourism board also offered information for those who were interested in visiting the large country in the sub-continent.