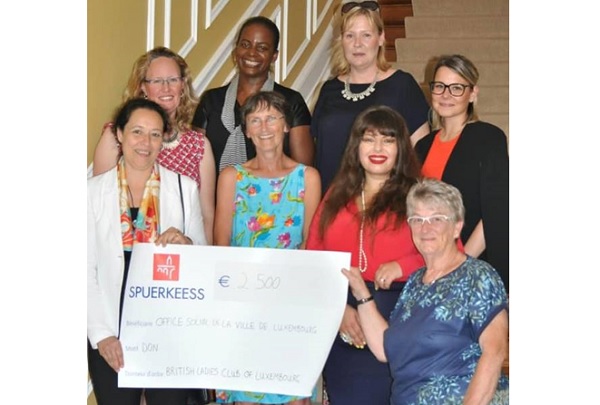 BLC Car Boot Sale 25th Anniversary; Credit: Josephine Desvaux De Marigny-Ollivry
On Wednesday 20 June 2018, over 25 members of the British Ladies Club (BLC) met at the Residence of the British Ambassador to Luxembourg, John Marshall, to celebrate with a crémant reception 25 years of organising the ever-popular Car Boot Sale in Luxembourg.
For those who are not familiar with the event (or with car boot sales in general), it is a second-hand market held in the style of a flea market, with a twist! Everyone turns up to sell items out of the boot of their car.
The BLC takes bookings for car spaces every year, while organising logistics such as location, amenities and food options. The proceeds from these bookings go entirely to charity, to support the social welfare office of Luxembourg Ville.
Yesterday, the record sum of €2,500 was handed over to Mme Isabel Wiseler-Lima, representing the social welfare office. Mme Wiseler gave a heartfelt speech about the event, after having visited the Car Boot Sale herself back in May and seen the positive, cross-cultural and cooperative atmosphere there.
A special certificate of thanks on behalf of Ambassador John Marshall was presented by Sher Houston, 2nd Secretary Political & Public Diplomacy, to two special BLC ladies: Enid Isaac and Susan Sanderson, who have organised the event for 11 and 18 years respectively – and have done an amazing job.
The evening wrapped up with cake and a walk through the sunny gardens while members chatted and drank a toast to the continued success of the Car Boot Sale.
"The BLC proudly stands among those ASBLs in Luxembourg strongly supporting many important social causes. Contributing amounts which to many of us make little difference in the daily lives, we are able to make a big impact in the life of those less fortunate. We are grateful to the Ville de Luxembourg for this long-standing relationship and are extremely happy that our proceeds from the selling of the CBS spaces, go to the Ville of Luxembourg social fund, which in the past has used the funds to cover "unexpected situations" or to boost students from under-privileged backgrounds" beamed the BLC Chairwoman, Jugera Ibrahimi.