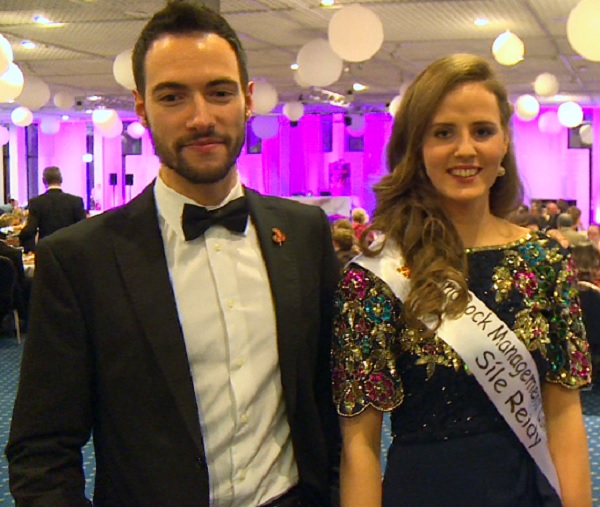 The Rose of Tralee was previously a locally grown beauty, picked from the small town of Tralee itself, but now young Irish women and women of Irish ancestry can compete in this pageant from any of 70 some 'Rose Centres' around the world - like Luxembourg.
But even though the Roses do not have to have been grown in the soil of County Kerry anymore, it was a pleasure to see the 2016 tiara and crown in Luxembourg go to a young woman who had grown up with the Rose Ball, as familiar with the week-long festival in her hometown as we are with the Schouberfouer.
20-year-old Síle Reidy, from just outside Tralee, was crowned as the 2016 Rose from Luxembourg by her 2015 predecessor Aedammair Ní Chiardha at the Alvisse Parc Hotel in Dommeldange as witnessed by some 300 guests - the largest crowd at the Luxembourg Rose of Tralee Ball in its 15 year history. Heard in whispered tones and what people mistook for whispered tones after a few glasses of Bernard Massard bubbly were things like "I knew she'd get it!" and "She's so natural!"
Saturday's five contenders were of all lovely young women, but they would not have made it to the ball if their good looks were all they had going for them. The Rose needs to be a personable representative for her Centre and for Ireland, to be a worthy ambassador for the cultural traditions of the Emerald Isle.
The importance placed on character stems from the poem that inspired the pageant, written by the love-struck well-to-do merchant William Pembroke Mulchinock for the lovely low-income maid Mary Connor back in the 1800s:
She was lovely and fair as the rose of the summer,
Yet 'twas not her beauty alone that won me.
Oh no, 'twas the truth in her eyes ever dawning
That made me love Mary, the Rose of Tralee.
That love story did not have a happy ending, but it has been a blessing for all except the ill-fated lovers. The Rose of Trallee festival that ensued has helped boost tourism in Tralee and County Kerry, fostered Irish pride all around the world, and has helped to encourage young women to aim high and develop the kind of qualities sought after at Rose balls all over the world.
Each of the five young women competing on Saturday evening at the Park Hotel had the depth of character, the poise and grace to make it to the Ball as finalists. Judges Nicola McEvoy, Saran Buckingham and Conor Sweeney did not have an enviable task of choosing between them.
Jim Kent's job seemed much easier - but that is not because it really is - he just makes it look that way. Before interviewing the girls as the evening's MC, he engaged the audience in things like spotting celebrity look-alikes at their tables - was that really John Travolta and Pierce Brosnan? - and he introduced the Irish dancers and got the escorts to do their traditional study strutting upon the stage. The dancing dudes are meant to provide a bit of a laugh for the audience, but some of them were seriously good.
Also seriously good was the meal - as pleasing to the eye as to the palette - and between courses, the main fare was dished up - the competition started in earnest.
Jim Kent asked the first girl up - 24-year old Cathy Liddy from County Clare - what she was afraid of. She said scary movies, but with a BA in Irish Music and Dance she was not at all nervous about playing the flute after answering his questions. Next up was 21-year old Emma Livingstone, who helps out with Irish dancing here in Luxembourg and you could see why as she took to the dance floor herself. 20-year-old Leena Doherty - born on St. Patrick's Day - spoke fondly of her family (and is one of six children!), winning the crowd's approval, and Shannon Daniels was confident and poised as she answered Jim's questions, sounding as polished and professional as he did. Last but not least up was Síle, who was not only brought up loving the Rose of Tralee pageant, but also loving - and playing - Gaellic football. She told the crowd she was athletic, and sure enough - she crossed Saturday night's finish line first, claiming the gold as Luxembourg's 2016 Rose.
The crowd seemed as pleased as Reidy herself and the other girls were supportive and happy for her even though they must have been a little let down themselves not to have the chance to compete in the Rose of Tralee this August and to represent Luxembourg over the coming year. As the 2015 Rose Aedammair said, it is an amazing experience that seemed to have flown by.
So too did the night - If the other girls were at first let down they put it behind them quickly enough and were all smiles and in great moods on the dance floor, where they joined the dozens of others enticed by the irresistable beats played by DJ Sam Steen. The party went on full speed - lots of people donning fun costume props and posing in the photo booth between dancing, which carried on until 03:00. There are other images not on film that will also last a lifetime, like petite Cathy Liddy, barefoot and holding on to her dress hem as she kicked up her feet, energetic and laughing, and tombola winners jumping up in delight when their numbers were called for generous prizes ranging from flights to Dublin to surprise gifts from the Rose Ball's main sponsor, FundRock Management Company S.A.
Last year's tombola raised more than €4,250 for charity - this year's is thought to have raised even more. Nice to know that this event that was so much fun for everyone also does so much good.
Photos by Artur Kurkowiak and Wendy Winn