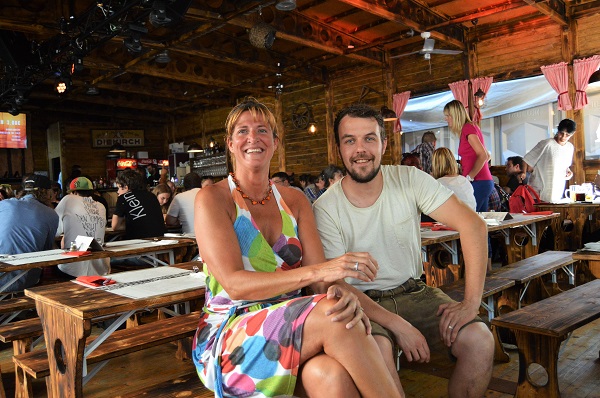 True to tradition, Luxembourgish charity Stëmm vun der Strooss (SVDS), set up to aid disadvantaged people in the Grand Duchy, today attended the 675th Schueberfouer to try out the rides and partake in a meal of sausage and mash, provided free of charge by Restaurant Kessel.
It was in 2000 that SVDS first started attending the Schueberfouer as an organisation, to provide its beneficiaries and employees with a much-needed day out. Five years ago, Jérôme Bigard, now owner of Restaurant Kessel, began to annually invite disadvantaged people from the association to eat for free at his restaurant.
"Not everyone in life is lucky," explained Jérôme Bigard when prompted as to the reason he had begun the tradition.
"This is no small thing," Alexandra Oxacelay, Director of SVDS, said of the event. Indeed, with an individual dish costing around €13, and 80 mouths to be fed, the meal out would have cost over a thousand euros. Instead, the association's beneficiaries, who are most often without a home, were able to relax and enjoy the sausages and mash on offer.
Founded in 1996, Stëmm vun der Strooss continues to work tirelessly to help disadvantaged people integrate socially and professionally. The non-profit organisation is subsidised by the Ministry of Health, but relies on donations from associations for any excursions, as in the case of the summer trips to Walibi amusement park and Sainte Croix Animal Park last week, which were funded by the Dudelange Rotary Club.
"It is very rewarding," said Sandra Louffleur, who works as an educator at SVDS' Stëmm Caddy workshop, where food items such as sandwichs, vegetables and juices are provided to those in need. "It's the job of my life. These faces will remain in my head and my heart because I can see they are just so happy to be here."
Photos by Sarah Graham (Top L-R: Director of SVDS, Alexandra Oxacelay ; Owner of Restaurant Kessel, Jérôme Bigard. Bottom: SVDS Member Jerome)