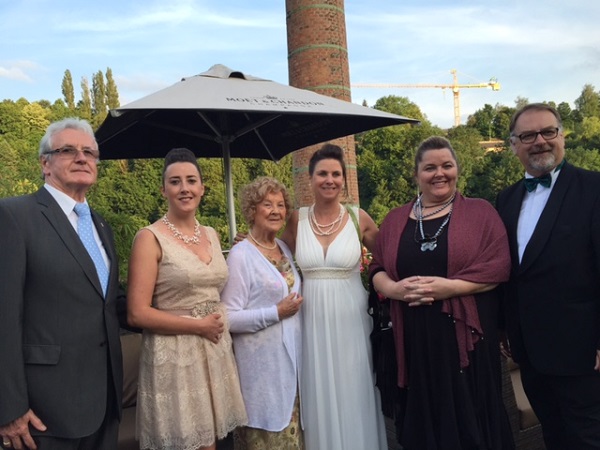 On Saturday evening, the Irish Club of Luxembourg held its annual charity Ball at the Le Sud restaurant in Luxembourg-Clausen on the occasion of its 30th anniversary.
With a waiting list for places at the sold-out event illustrating it as a "must-attend" event in the social calendar, it was attended by members of the Irish club and their friends and friends of Ireland. the event started off with a cocktail reception on the 5th floor terrace before everyone took their places in the magnificent 4th floor dining room.
Following the playing of the national anthems - with a particularly rousing rendition of Amhrán Na bhFiann - Deirdre Joyce welcomed everyone in her capacity of President of the Irish Club of Luxembourg, and the Ambassador of Ireland to Luxembourg, Peadar Carpenter, also addressed the audience. An impromptu "Happy Birthday" rang out during the event which was held on the 150th anniversary of the birth of W.B. Yeats.
In between courses of a delicious meal, the crowning glory being the mouth-wateringly succulent Irish lamb, auctioneer Geoff Thompson led the way through the four sections of the Charity Auction which succeeded in raising a total of €7,350, of which 50% will go towards Think Pink Lux (in Luxembourg) and Barnardos (in Ireland).
The party-goers then returned to the 5th fllor to boogie the night away to the tunes of DJ Sam Steen.
Photo (L-R): Roger Pettinger (honorary member); Deirdre Joyce (Irish Club President); Tessa Collins-Pettinger (inaugural Irish Club President and honorary member); Carrie Milne; Fiona Mulhern; Geoff Thompson