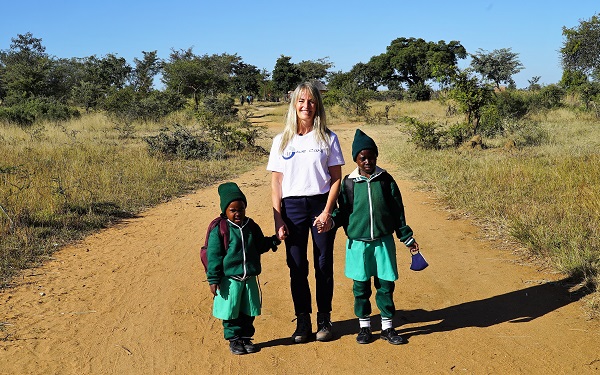 Vicki Sorg, PM-International Charity Ambassador, with two sponsored children in Zimbabwe; Credit: PM-International
PM-International, a Schengen-headquartered direct selling company in the areas of health, wellness and beauty, has announced that its charity arm known as "PM We Care" is donating €1,872,000 to support thousands of children in partnership with the international aid organisation World Vision.
With World Vision over the past two years the Luxembourg company has sponsored 4,200 children around the world to the tune of €5.7 million. A further 1,000 children will be sponsored from this year, bringing the total to 5,200.
In the past three years, PM-International has donated approximately €7,572,000 to emergency relief around the world including to Ukraine and for COVID-19-related aid, on top of its child sponsorships with World Vision.
Charity Ambassador at PM-International Vicki Sorg stated that "giving a future to 5,200 sponsored children is incredible and this brings us to just over half of our long-term goal of 10,000 sponsored children!" She continued: "This stands for commitment, leadership and that not only are we as a company focused on our core competence of premium products for health, fitness and beauty, but penetrating our values. We focus on the good in people and on every level of business to make the world just a little bit better each day."
In addition to donating money to World Vision, PM We Care actively supports and visits the children and their communities, including in remote rural areas. In 2022, Zimbabwe was the focus and PM We Care representatives spent time in villages in the country to follow the progress of their programme. In 2023, the focus will be on regions in Tanzania and Kenya where visits are also planned.
It is estimated that sponsoring one child actually benefits five children. Senior Advisor Philanthropy at World Vision Germany, Juliana Goessmann, explained: "As we improve the situation of children through their families and neighbourhoods, everyone in the community can benefit: whether we use the funds for schools and learning materials, water systems or livelihoods. We could see in Zimbabwe how access to clean water supports education and good nutrition and therefore changes people's lives."
According to PM-International, this means is that 4,200 sponsored children can be considered as ambassadors for roughly 21,000 children and if families and communities are also taken into consideration then it is estimated that 500,000 people benefit indirectly. With the additional 1,000 sponsored children in 2023, PM We Care expects to have an even larger impact.
At the PM-International Leadership Convention in Berlin recently, the CEO of World Vision Christoph Waffenschmidt stated: "Our long-term partnership with PM-International is unique and we feel so encouraged and inspired to see how you stand firm to your commitment and to your legacy."
2023 also marks the 20th anniversary of the charity engagement of PM-International in partnership with World Vision. Since it began supporting children, their families and communities through World Vision, more than 60 long-term development projects all around the world have received funding. Now with 5,200 sponsored children worldwide, PM-International is the largest corporate sponsor for World Vision's humanitarian, relief and development work.