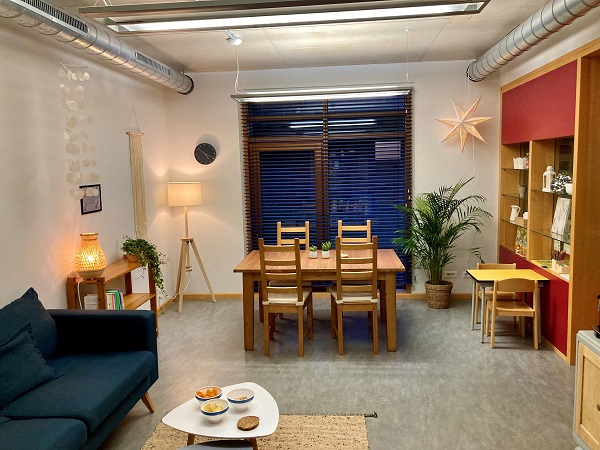 LOFT Lorentzweiler; Credit: Luxembourg Red Cross
The Luxembourg Red Cross has announced that it is expanding its range of education and training activities and is setting up another "local family meeting place" ("lokale Familljentreff" or "LOFT") from Wednesday 23 November 2022, in cooperation with the municipality of Lorentzweiler.
This new LOFT is located on the premises of the "maison relais" (childminding service) of the municipality of Lorentzweiler and serves as a new meeting place and educational centre for families. The aim is to accompany and support families from the community in their life situations. The LOFT offers an opportunity to meet, make contact and exchange ideas. On Friday 18 November 2022, the meeting place was officially inaugurated in the presence of Marguy Kirsch-Hirtt, Mayor of Lorentzweiler, Marco Deepen, director of the department for non-formal education of the Luxembourg Red Cross, and Lisa Goergen, coordinator of the LOFT.
This follows the inauguration of a first LOFT in Stadtbredimus in July 2022.
The LOFT in Lorentzweiler aims to respond to needs in the fields of education and upbringing, regarding individual requests (e.g. about the maison relais, creche or social services), information events (e.g. on the topics of homework, internet security), individual or group consultations, family activities with children (e.g. hikes, reading evenings, family brunches) and to serve as a space for exchange between different families as well as exchange with socio-paedagogical staff.
"The local family meeting place uses a participatory approach that emphasises close partnership with families. Parents are experts on their children, and their resources and skills are reflected in what the family gathering offers", explained Marco Deepen.
"LOFT is open to all families in the municipality of Lorentzweiler - regardless of whether a child is registered in the maison relais or in the creche of the municipality", added Lisa Goergen.
The LOFT in Lorentzweiler is open every Wednesday from 17:00 to 19:00 and every Thursday from 14:00 to 18:00 (times may change as needed).