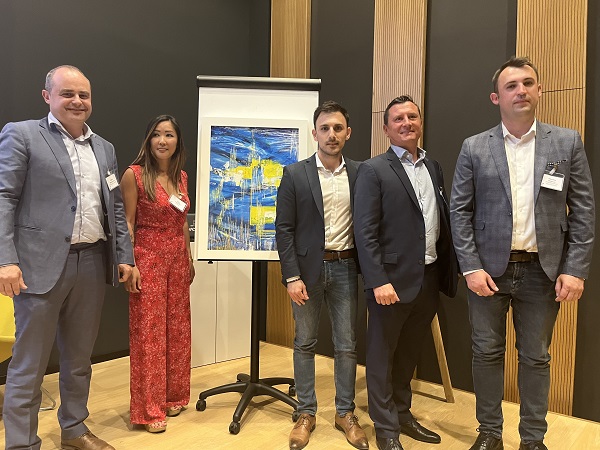 Credit: PwC Luxembourg
At the closing of PwC Luxembourg's "Metaverse: Beyond the hype" event at its Crystal Park premises on Wednesday 11 May 2022, a live auction was held in support of LUkraine asbl, a non-profit organisation representing the Ukrainian community in the Grand Duchy.
In the presence of Bailiff Carlos Calvo, the more than 180 attendees watched as Bernard Pons, Co-founder and Managing Partner of Pure Capital, won the highest bid, taking home a piece of art (physical and NFT version) entitled "Ukraine". The artwork was produced by local artist Thuy Gattaux.
The "Metaverse: Beyond the hype" event was billed as an evening that tried to separate the facts from the hype and help the audience understand what the metaverse might mean for their business and the future of their industry.
One of the highlights was guest speaker Sébastien Borget, Co-founder and COO of The Sandbox, who was recently named #4 in CoinTelegraph's Top 100 2022 Most Influential People in Crypto. Additional international guest speakers such as Roberto Hernandez, Partner and US Metaverse Leader at PwC US, and Peter Brewin, Partner, Crypto Services at PwC Hong Kong, discussed the reasons for PwC's presence in the metaverse and the dynamics around companies from all sectors curious to understand how they can benefit from this new channel.
To continue the discussions, a panel of local and international experts bringing their unique perspectives, moderated by the evening's host Thomas Campione, Blockchain & Crypto-Assets Leader at PwC Luxembourg, included Frank Desvignes, Founding Partner at True Global Ventures, Christian Fisch, Associate Professor for Business Economics and Entrepreneurship with a focus on the space sector at the Interdisciplinary Centre for Security, Reliability, and Trust (SnT) of the University of Luxembourg, Anne Hoffmann, Deputy Curator & Digital Development / Social Media at Les 2 musées de la ville de Luxembourg, and David Palmer, Blockchain Lead at Vodafone Business.
The main highlight of the evening came at the end when the bailiff, Master Carlos Calvo, hosted the live auction for the "Ukraine" artwork created by local artist Thuy Gattaux, known as Arthuy. Bidding was tight, but the ultimate bid came from Bernard Pons, Managing Partner of Pure Capital. All profits are donated to the LUkraine asbl, in support of the Ukrainian community in Luxembourg, represented by Eddie Berkovitch and Nicolas Zharov.
Bernard Pons, Co-founder and Managing Partner, Head of Risk & Management Company Services, Pure Capital, said: "I am excited and very happy to have participated in this auction for three reasons. One, of course, I stand with Ukraine so the cause in itself is very important. Secondly, I personally absolutely love art, something unique and especially planches originales and illustrations from 'Bande Dessinée' from Belgian artists (ie.Michel Adam, Jean Van Hamme, André Franquin,…). Digitalisation of this segment of art is coming and increasing in interest. So this leads to my third point - owning the NFT as well as the painting is quite a new and exciting idea".
Nicolas Zharov , President of LUkraine asbl, stated: "LUkraine asbl would like to express gratitude to PwC Luxembourg for the organisation of this event. We have witnessed the development of technologies in the last decades. Unfortunately, we have also seen that the human being itself has not been evolving as quickly as the technologies for the last centuries. We hope that the Metaverse will not be a place where people hide from real world problems, but a place to create, develop and interact in peace and freedom".
Thomas Campione, Blockchain & Crypto-Assets Leader at PwC Luxembourg added: "PwC Luxembourg's first metaverse event (but certainly not our last) surpassed our expectations and we were delighted to have our colleagues as well as other outstanding experts. Clearly this is a topic that, even at this early stage, holds a lot of interest for a wide variety of stakeholders and players, present and future. We will be continuing these critical discussions on the metaverse, blockchain and crypto and thank all who attended. Most of all, we are delighted at the shared excitement around one of the first, if not THE first, NFT auctions in Luxembourg. This was a unique experience that served a very worthy purpose in support of Ukraine".