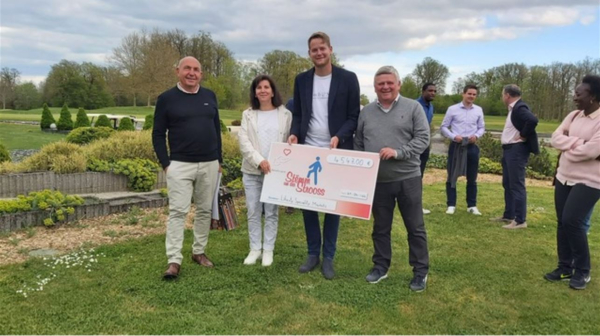 Credit: Stëmm vun der Strooss
Stëmm vun der Strooss, a local non-profit organisation which supports homeless people and vulnerable members of Luxembourg society, announced that Liberty Speciality Markets (LSM), whose European headquarters are located in Luxembourg, recently donated €4,547 to support Stëmm's Caddy 2 project.
The contact between the two agencies had been established on the initiative of Saliha Akroud-Ouannoughi from LSM.
The official donation ceremony took place on Thursday 21 April 2022 in the idyllic surroundings of the Golf of Preisch, in the presence of LSM General Manager, Dirk Billemon and LSM staff. Communications Officer at Stëmm, Bob Ritz, gave a detailed presentation of the association's activities and the Caddy 2 project.
The donation will enable the charity to fund some of the initial equipment such as refrigerators, cold rooms, hot plates and storage shelves. The Caddy 2 site at 5, Zone um Woeller in Sanem will be operational from September 2022 and will accommodate up to 90 people who will benefit from a vocational reintegration measure, 40 more than before.
Bob Ritz, said: "Mr Billemon, Mrs Akroud-Ouannoughi, without your financial help and that of many other donors, we would not be able to implement our projects. We are also very honoured that LSM would like to regularly engage in volunteering to help the most disadvantaged people".