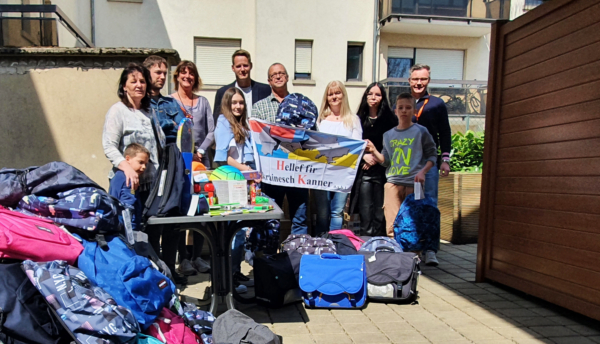 Credit: Stëmm vun der Strooss
Stëmm vun der Strooss, a local non-profit organisation which supports homeless people and vulnerable members of Luxembourg society, has announced its support for the Ukrainian population, and in particular children, through the non-profits HUK (Hëllef fir Ukrainësch Kanner) and Hëllefen mat Herz with large quantities of non-perishable food and hygiene items.
The HUK organisation has officially existed since 1999 and regularly transports clothing and accessories for babies, children and adults, shoes, handbags, toys, cuddly toys, towels, blankets, suitcases, bandages, glasses, prams, cots, medicines and other items directly to Ukraine. Already this year, four lorries full of donations left the warehouse at 60 Rue Eich in Leudelange for Ukraine.
Stëmm vun der Strooss organised a donation event at its premises at 7 Rue de la Fonderie in Luxembourg-Hollerich on Friday 14 April 2022 and presented Jeannot Majerus, President of HUK asbl, with a collection of washing machines and dryers, toys and school supplies to provide for about 50 Ukrainian families. In addition, 1.4 tonnes of food were collected in partnership with supermarket chain Auchan.
Luxembourg startup Thalus participated with a pallet of spring water, packed in recyclable TetraPaks, to the warehouse of the non-profit HUK, intended for Ukrainian families.
Hëllefen mat Herz asbl is currently reaching out to all households that have taken in Ukrainian families to offer them food and hygiene items. According to Chantale Geisen, President of Hëllefen mat Herz, the demand is high.