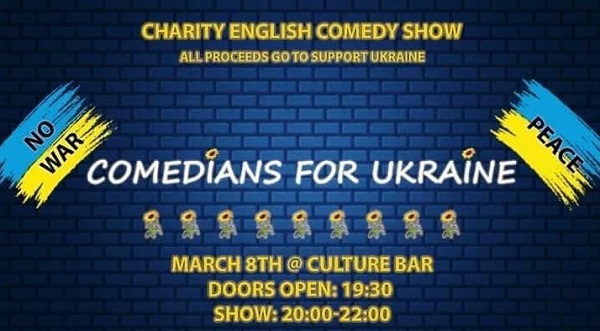 Two upcoming events in Luxembourg are set to raise funds to support victims of the war in Ukraine: an English-language comedy show and a charity concert.
Charity comedy show
Dan Belkin, a comedian splitting his time between Berlin (Germany) and Luxembourg, is organising an English-language comedy show entitled "Comedians for Ukraine" at Culture Bar in Luxembourg-Clausen on Tuesday 8 March 2022. Doors open at 19:30, with the two-hour show starting at 20:00.
Some of the best comedians in Luxembourg will come together for a night of stand-up comedy in support of Ukrainian charities.
Tickets cost €15 (plus €1.92 fee) and can be purchased via Eventbrite. All proceeds will go towards supporting Ukraine.
Charity concert
The Red Cross Luxembourg and the Philharmonie have partnered with the Orchestre Philharmonique du Luxembourg (OPL) to put on a benefit concert in aid of the victims of the conflict in Ukraine; this concert will take place at the Philharmonie in Luxembourg-Kirchberg on Friday 18 March 2022 at 20:00.
Tickets cost €49 (Phil27: €10), with all revenues supporting the Red Cross' many initiatives in the context of the war in Ukraine.
"We will help the Ukrainian population, which is in a dramatic situation, wherever it needs help: families who are stranded within Ukraine, refugees at the borders and in Luxembourg", explained Rémi Fabbri, Director of Humanitarian Aid at the Red Cross Luxembourg.
The organisation has already provided immediate funds of €150,000 from its reserves and, on Wednesday 2 March 2022, thanks to the support of donors living in Luxembourg, another €200,000 could be added, supporting the Red Cross Ukraine in its efforts to procure needed goods and to organise the humanitarian intervention where it is required.
Moreover, teams are on site to help evacuate thousands of people, taking care of the wounded and transporting them to hospitals. This past weekend, 2,000 individuals were trained in first aid and the number of people joining the Red Cross Ukraine is steadily growing.
The upcoming benefit concert will be performed by the OPL under the baton of Lionel Bringuier. Joining them is young pianist Bruce Liu, winner of the most recent Chopin Competition in Warsaw (Poland). The programme features the Concerto for Piano and Orchestra No. 1 by Frédéric Chopin and the Symphony No. 2 by Sergei Rachmaninov.
To purchase tickets, visit: www.philharmonie.lu or tel.: 263-22632.