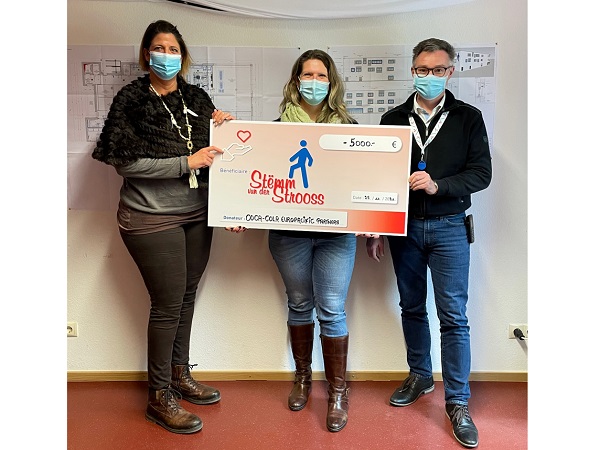 Credit: Stëmm vun der Strooss
Coca-Cola Europacific Partners (CCEP) recently donated €5,000 to Stëmm vun der Strooss, a Luxembourg non-profit organisation which supports homeless people and vulnerable members of society.
On Thursday 25 November 2021, Stëmm vun der Strooss received a visit from Joëlle Arnold, Management Assistant at CCEP, who officially announced the support of Coca-Cola Europacific Partners for the "Caddy 2" project with a donation of €5,000. This project will tackle food waste and employ 90 people in vocational reintegration. These people, who receive a social inclusion income, will be employed in jobs such as cooking, transport, logistics, cleaning, ironing, sewing or service.
In future, the non-profit will increase the amount of food currently collected, processed and redistributed as a result of its partnership with the Auchan hypermarket, from 100 to 500 tonnes per year.
According to Stëmm vun der Strooss, due to its size, the Caddy 2 project meets a need in Luxembourg that could not be met until now: It fights food waste, promotes solidarity and creates new jobs at the same time. It also creates added value throughout the chain and helps to reduce poverty.
Joëlle Arnold emphasised: "This donation was a no-brainer and we are happy to make a positive difference for the people who need it most".
The donation came about through a drive at CCEP where staff were encouraged to suggest a charity close to their hearts.
During Ms Arnold's visit, the Stëmm vun der Strooss management, represented by Alexandra Oxacelay and Arnaud Watelet, went through the building plans, presented the Caddy 2 project in detail and concluded with a tour of the Luxembourg-Hollerich site.