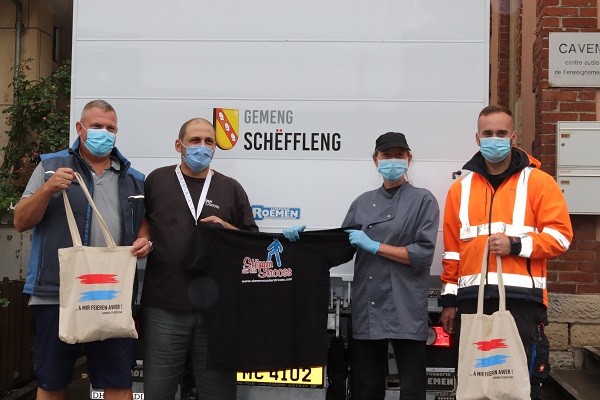 Credit: Stëmm vun der Strooss
The municipality of Schifflange recently donated 500 food parcels to Stëmm vun der Strooss, a Luxembourg non-profit organisation which supports the homeless and vulnerable members of society.
On the occasion of Luxembourg's National Day this year, the municipality of Schifflange handed over more than 500 reusable grocery bags, each containing two bottles of orange juice and biscuits, to Stëmm vun der Strooss in Esch-sur-Alzette.
The municipality had prepared a total of 4,000 such bags for its residents. However, not all had been collected and so the municipality decided to distribute the remaining 500 to those in need. After contacting Stëmm vun der Strooss, this charity drive was launched for beneficiaries of the non-profit.
Due to the large number of grocery bags donated, some were sent to the Stëmm vun der Strooss location in Luxembourg-Hollerich, to be distributed among its customers.
Stëmm vun der Strooss thanked the municipality of Schifflange for this charitable action, which the non-profit described as "a nice gesture, especially on the occasion of the bank holidays and at a more difficult time than usual for the entire Luxembourg population".