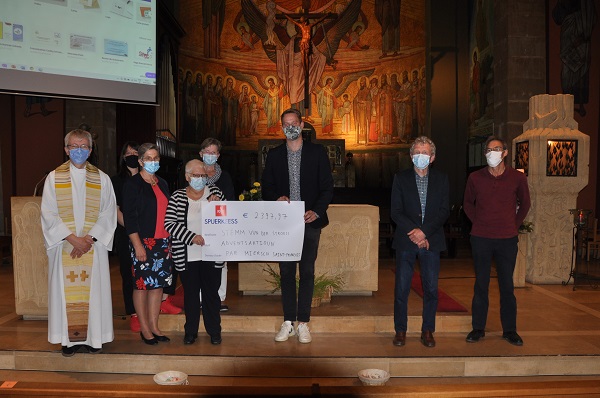 Credit: Stëmm vun der Strooss
On Sunday 30 May 2021, the Saint-François Parish of Mersch (Par Miersch Saint-François) handed over a cheque for almost €2,400 to Stëmm vun der Strooss, a Luxembourg non-profit organisation which supports the homeless and vulnerable members of society.
After Sunday Mass, churchgoers listened to a presentation on the activities of Stëmm vun der Strooss. Immediately afterwards, the parish, represented by Conny Faber, presented a cheque for €2,397.97 to Bob Ritz, communications officer at the non-profit.
This donation was made possible by the proceeds of a Christmas campaign launched by the parish last winter. Christmas trees were decorated with baubles and stars to enliven this initiative, to which several donations from parishioners were added.
For many years, the Saint-François Parish of Mersch has collected money at Christmas to support charities. "Unfortunately, due to the constraints caused by the COVID-19 pandemic, the Christmas campaign was not the same as in previous years. The usual organisation of concerts and meals would have raised an even larger amount," explained Conny Faber.
Nevertheless, the sum raised will be used for the completion of Stëmm vun der Strooss' new location in the Um Wöller industrial area in Sanem. Bob Ritz explained: "This new infrastructure is very important for our association and every donation helps us to realise this project". The main objectives are to recruit 40 additional people who are undergoing vocational rehabilitation and living off the social inclusion income and to go from 100 tonnes to 500 tonnes of food that will be recovered and redistributed thanks to the non-profit's partnership with the Auchan hypermarket.
The funding phase is not yet completed and Stëmm vun der Strooss is launching an appeal to all donors who want to support a project that is social, ecological and economic at the same time.
At the end of the cheque handover, Bob Ritz expressed his sincere gratitude to the Saint-François Parish of Mersch and Conny Faber was pleased that the money would support an important project.