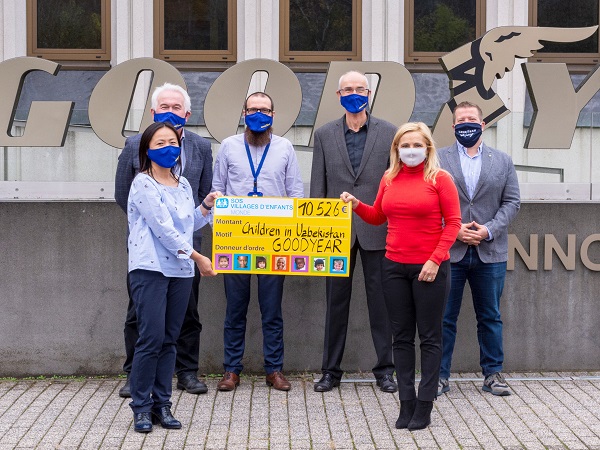 Credit: SOSVEM
Through its solidarity actions carried out in 2019, Goodyear Luxembourg has raised a total of €10,525.93 for local NGO SOS Villages d'Enfants Monde.
For the past seventeen years, Goodyear Luxembourg and its staff have supported SOS Villages d´Enfants Monde through several solidarity initiatives, including a major end-of-year campaign. Recently, the tyre manufacturing company donated €10,525.93 to the charity, aimed at supporting the care of around 350 children and 200 vulnerable families in the Khorezm region in Uzbekistan.
Initially scheduled for spring but delayed due to the COVID-19 crisis, the cheque presentation took place at Goodyear Luxembourg in the presence of Xavier Fraipont, Vice-President of Product Development EMEA, and members of the Associate Engagement Team, as well as Sophie Glesener, Director of SOS Villages d'Enfants Monde. On this occasion, Ms Glesener presented the programme supported by the company and implemented by SOS Children's Villages in Uzbekistan to strengthen the child protection system through the establishment of community mechanisms and significant advocacy work vis-à-vis the authorities.
In 2019, Goodyear Luxembourg stepped up its solidarity actions, particularly by sending clothes and toys to children benefitting from SOS programmes in Iraqi Kurdistan, Lebanon and Syria. The firm's Associate Engagement Team organised a drawing competition on the theme of sustainable development for the children of the company's employees. The most beautiful drawings were exhibited and the winners of the competition rewarded during the traditional end-of-year staff party. Employees used this opportunity to organise a fundraiser, a raffle and an auction which raised the sum of €10,525.93 for children from the Khorezm region, in the north-west of Uzbekistan, where SOS Children's Villages have been present since 1996.
Xavier Fraipont commented: "We are moved to be able to make this gesture of solidarity in favour of vulnerable children in Uzbekistan to help them live better and acquire the background that will allow them later to lead an independent life. This is all the more important as the lives of young people have been affected by the COVID-19 pandemic and challenges continue to increase for them. We are delighted to be able to reunite with our partners from SOS Villages d'Enfants Monde on the eve of the celebration of World Children's Day".
On behalf of SOS Villages d'Enfants Monde, Sophie Glesener thanked the managers and employees of Goodyear Luxembourg: "On the threshold of an eventful and difficult year for all, I am happy to share this moment of conviviality with you and I thank you for your renewed generosity to the children. In Uzbekistan, our programme is particularly concerned with children who have lost or are at risk of losing parental care and supports many families at risk".