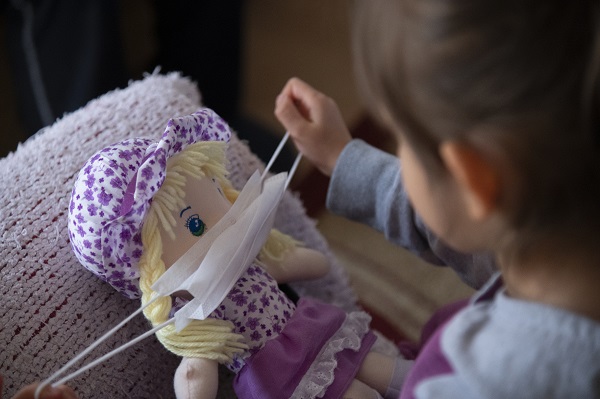 Girl in one of the SOS villages in Skopje, North Macedonia; Credit: SOS Villages d'Enfants Monde
Luxembourg-based non-profit association SOS Villages d'Enfants Monde has called for solidarity as it joins the global response to the COVID-19 (coronavirus) pandemic.
In order to support the children in its care and its teams in the field during this crisis, SOS Villages d'Enfants Monde has applied various precautionary measures and is launching an appeal from Luxembourg for solidarity in an attempt to minimise the impact of the virus on beneficiaries of SOS programmes and more generally the communities in which the NGO works. The main objective at present is to keep these programmes going and meet the most urgent needs.
In early April 2020, more than 50,000 people have died from coronavirus, with a million others having been infected and billions being confined. Borders have closed, economic life is slowing down, social life has shut down, schools are closed and the work of medical and humanitarian workers has become more difficult in fragile areas. The trauma is especially severe for children whose lives were already in danger even before the crisis.
SOS Villages d'Enfants Monde has thus called for unity in supporting the most vulnerable, first and foremost children at risk and those who have lost or risk losing parental care. The global organisation SOS Children's Villages International, which supports more than one million children, young people and families in 136 countries and territories on a daily basis, is mobilised today just as it has been in previous major crises.
In the field, from the very beginning of the spread of COVID-19, the national SOS associations followed the recommendations of the World Health Organisation (WHO) and implemented strict precautionary measures in their infrastructure and within their programmes to protect children, families and SOS teams while complying with the rules in force in the different countries. In addition, SOS associations have set up crisis management teams to prepare an emergency response. However, SOS teams must act quickly to minimise the effects of the crisis, with a focus on prevention and preparation, protection and care of children, strengthening families and communities, mental health and education.
While countries at war are most at risk, many developing countries can become at risk quickly when health systems are already failing and infrastructure, equipment and medicines prove insufficient. Therefore, urgent measures must be taken to support vulnerable children and families and all communities at risk.
The NGO has recognised the support given by local partners and the work being carried out by its teams who are mobilised for the continuation of emergency aid programmes in the Central African Republic, Iraq, Mali and Chad, as well as in development programmes in Guinea, Mali, in Niger and Senegal. To support these long-standing partners and strengthen all SOS associations around the world, the association aims to continue to respond to their enormous needs, notably medical and financial, at this time.
Therefore, SOS VIllages d'Enfants Monde has joined the global effort of SOS Children's Villages International to respond to the current health crisis and has launched a broad appeal for solidarity in Luxembourg to strengthen the resources of SOS partners in the field. Donations should be made via bank transfer to CCPL IBAN LU65 1111 0050 0053 0000 (mention "Urgence - pandémie de Covid-19") or online at sosve.lu.