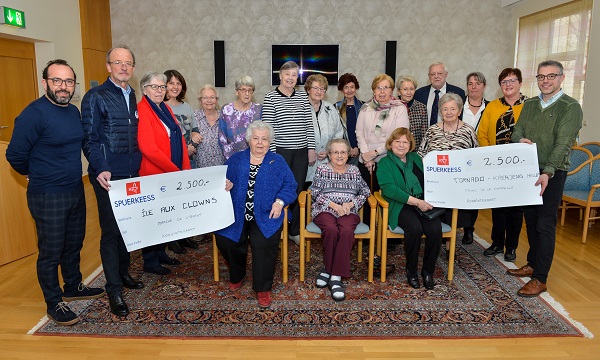 Credit: VdL Photothèque / Charles Soubry
Residents and staff of the Konviktsgaart retirement home in Luxembourg City yesterday donated €2,500 each to the local associations "Île aux Clowns" and "Tornado - Käerjeng hëlleft".
On Monday 17 February 2020, the residents and staff of the Konviktsgaart who participated in the Advent market and in the "Fläisseg Hänn" activity presented Île aux Clowns and Tornado - Käerjeng hëlleft with cheques worth €2,500.
On this occasion, Marcello Loguercio, director of the Konviktsgaart, thanked the residents for their efficient collaboration and their common contribution in the interest of the organisation of the Advent market and the help of the staff. The funds contributing to these donations came from the proceeds of this market and the chapel's donation box.
Representatives of the two associations, Danielle Hermes from Tornado - Käerjeng hëlleft and Laurent Drees from Île aux Clowns expressed their gratitude to the residents and staff for these donations. They explained the operation of their respective associations and guaranteed that the amounts planned would reach the desired objective.