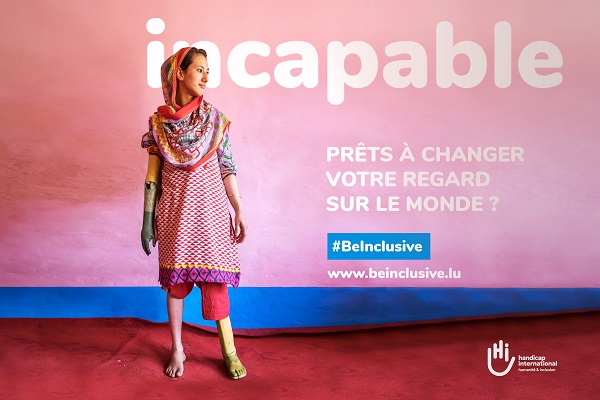 Credit: Handicap International Luxembourg
Handicap International, an NGO with a branch in Luxembourg, has announced that it is launching its new campaign for inclusion this Tuesday.
Launched on the occasion of International Day of Disabled Persons (3 December), the campaign aims to promote solidarity in a society that adapts to the needs of all.
Hélène Lo Presti, Head of Development Education and Awareness of the Luxembourg Association, explained: "With these images and these strong words, we wanted to show that our perception of disabled or vulnerable people can be completely changed by simply changing their point of view". She continued: "For us, if some people are excluded from social life, it is not only because of their difference but also because of obstacles that society imposes on them: negative attitudes, discriminatory policies and practices, inaccessible spaces, etc.".
This is why, according to the NGO, marginalised people cannot be expected to be the only ones to make efforts to integrate. "We can start by thinking differently: is it his wheelchair that prevents a paraplegic child from swinging or the playground that is not suitable?" explained Hélène Lo Presti.
Handicap International has stated that admitting that the norm does not exist is a first step. Just learning about disability and talking about it around us are actions that can make things happen.
Hélène Lo Presti concluded: "Every citizen has a role to play: we can get involved, by volunteering in an association, by relaying our campaign to its own network or by posting its ideas on our site dedicated to the theme of inclusion that will be launched this Tuesday".