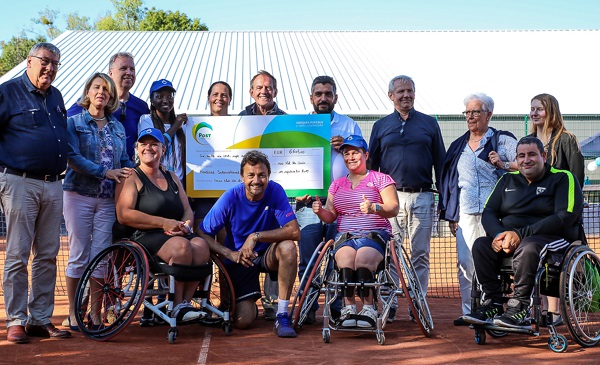 Credit: HI / Vincent Lescaut
The first edition of the Handicap International Tennis Day, held on Saturday at the Tennis Club des Arquebusiers in Luxembourg-Belair, has raised over €8,000.
On this occasion, some 100 spectators attended the matches between former professional tennis players Claudine Schaul (Luxembourg) and Henri Leconte (France), as well as between two wheelchair tennis champions from Belgium and Switzerland, Sofie Cox and Annabelle Ribeaud.
The afternoon ended with a doubles match, bringing together the four athletes. Claudine Schaul and her partner Sofie Cox emerged victorious. Schaul, who was very active in the organisation of the event, commented: "We had a great day together". The Luxembourg champion added: "I was really impressed by Annabelle and Sofie. [...] So far I have never wondered why wheelchair tennis is not present in Luxembourg, but when I see the girls, it makes me want to do more for disabled sports".
Annabelle Ribeaud shared this opinion: "It's a pity that wheelchair tennis is not developed in Luxembourg. Especially [since] all the facilities are accessible here. Initiation days should be organised to introduce this practice to people with disabilities".
This first Handicap International Tennis Day, plus the annual InterNations tournament, raised a total of €8,107 for the Luxembourg NGO. The Tennis Club des Arquebusiers also contributed to this sum with a donation of €1,500. The money raised will be allocated to the schooling programme for disabled children that Handicap International Luxembourg has been running for two years in Nepal.
The tennis club, athletes and Handicap International team have already announced a second edition of the event for 2020.