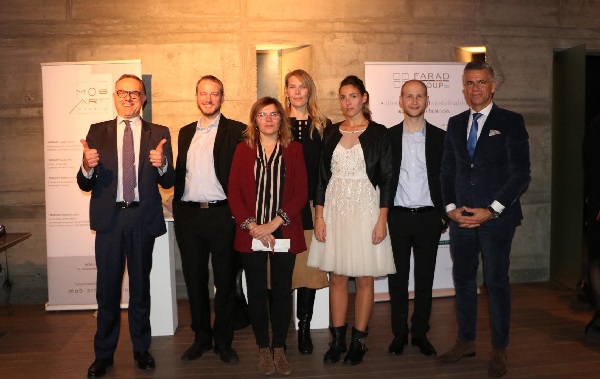 Event organisers, L-R: Marco Caldana; Stephan Peters; Cécile Sevrain; Hedda Pahlson-Moller; Giulia Gandolfini; Yves Wiltgen; Fernand Schaber; Credit: FARAD Group
The first edition of the "Impact Charity Game Dinner", held on 18 March 2019 at Namur in Hamm, raised €17,261.35 for various associations and NGOs.
As part of its "Farad Finance Forum" (an annual conference for professionals in the financial and insurance sector), the FARAD Group, in collaboration with TIIME and Unity Foundation, organised a charity evening with an innovative concept. The "Impact Charity Game Dinner" aimed to raise funds for several good causes, but also to promote corporate responsibility and social impact in Luxembourg by highlighting existing partnerships between companies and associations.
The organisers invited seven companies to this event, each accompanied by an association or NGO they wished to support. The innovative element of this event was the "game" aspect, as each company had to briefly present its partner association, their mission and social impact. At the end of the evening, each table voted for the most convincing presentation, awarded with a bonus of €500. The event was hosted by the team of TIIME who opened up the evening with some trends in Corporate Citizenship and then introduced the two speakers Marcello Palazzi from B Corps and Marc Elvinger, partner at Elvinger Hoss Prussen and co-chair of Friendship International.
No fewer than 111 representatives, from various companies and associations, attended the event, including Enerdeal and the Lokolama project, Banque de Luxembourg and Handicaps Solidaires Luxembourg, CBP Quilvest and Médecins du Monde, Octium and SOS Villages d'Enfants Monde, Fuchs & Associés Group and SolEcol, FARAD Group and Unity Foundation and Cardif Luxvie and Omega 90. In addition, a tombola was organised in collaboration with Luc Schroeder of the Mob-Art Studio art gallery.
The seven presentations of the associations by the companies were well researched and highlighted the challenges they seek to address and the different types of partnerships between companies and associations that contribute to a sustainable social impact.
The proceeds of the evening, amounting to €17,261.35, were distributed among the seven associations/NGOs represented, that is €2,465.91 each. Following the audience vote, the SolEcol association won an additional bonus of €500, sponsored by Cardif Luxvie, for the presentation made by their partner Fuchs & Associés Group.