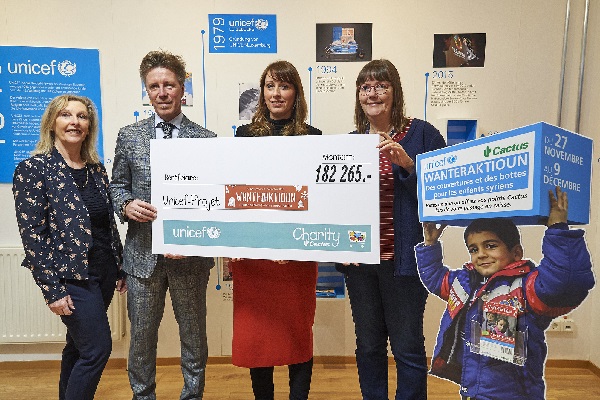 L-R: Karin Pütz (Cactus); Laurent Schonckert (Cactus); Sandra Visscher (UNICEF Luxembourg); Maryse Arendt (UNICEF Luxembourg); Credit: UNICEF Luxembourg
Last year's "Wanteraktioun", organised by UNICEF Luxembourg in support of Syrian children, raised a total of €182,265.
Thanks to UNICEF donors and Cactus clients in 2018, €182,265 was raised in the framework of this "Wanteraktioun" (winter action), the aim of which was to provide warm clothing to Syrian children. UNICEF Luxembourg donors offered €154,271 of this sum, whilst Cactus customers collected the additional amount of €27,994 during their checkout in Cactus stores.
UNICEF has recalled that, after 7 years of conflict, Syria remains one of the most dangerous places in the world to be a child. Many Syrian children have not only lost their homes, their schools and even their families, but they must also face another danger: winter. Icy temperatures, severe storms and heavy snowfalls exacerbate the difficult living conditions of conflict-affected families, trying to survive with the bare minimum in Syria and neighbouring countries. Many of them have fled violence and live in refugee camps with little protection against the freezing cold. Families are struggling to afford essentials - including warm clothes, scarves, gloves and winter boots - to keep their children warm.
The money raised allows UNICEF to distribute warm clothing and blankets, support families in their efforts to heat their shelters and purchase essential goods and medicines. In addition, UNICEF is heating schools to ensure that children can continue their education during the winter months.