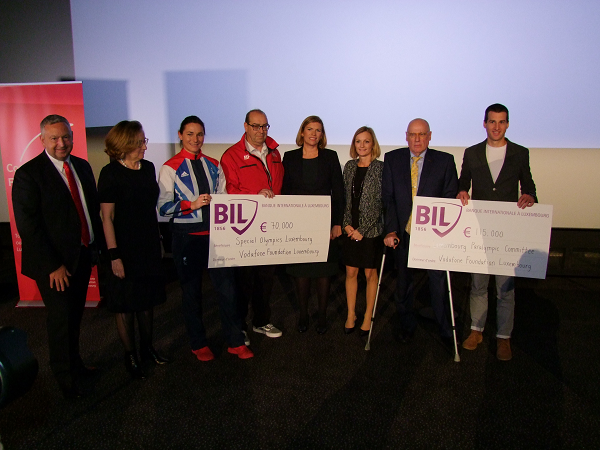 Vodafone Foundation Luxembourg inauguration;
On Thursday 6 December 2018 at Kinepolis in Kirchberg, Vodafone Foundation in Luxembourg was officially inaugurated; the foundation also announced their support for both Special Olympics Luxembourg and Paralympics Luxembourg.
The Vodafone Foundation in Luxembourg is one of a network of 27 such entities throughout the Vodafone group. While the Vodafone Foundations focuses on a number of related areas, in Luxembourg the focus will be on disability through sport, by sponsoring its new partners, the Special Olympics and Paralympic Committees in Luxembourg to increase their impact in Luxembourg and to help prepare its athletes, purchase kits and travel to various competitions, for example the upcoming Abu Dhabi World Games in 2019. A number of local Luxembourg Paralympic Athletes attended the inauguration.
Dame Sarah Storey, a multiple gold medal winner for Great Britain at the Paralympic Games in both cycling and swimming, the most successful Paralympian of all time with 14 gold medals, was unveiled as the Ambassador of the Vodafone Foundation in Luxembourg. She spoke about understanding such partnerships and the effect that it can have on athletes, giving them more momentum and extra resilience. She confirmed that she is training to participate in the next Paralympics in Japan in August 2020.
By 2025, the aim of the Vodafone Foundation in Luxembourg is to affect the lives of 5,000 people in the Grand Duchy.
Ninian Wilson, Global Supply Chain Director and CEO Vodafone Procurement Co Sarl, also addressed the full auditorium and thanked those responsible for all their efforts including looking forward to the future.
Presentations of cheques were then made to both Special Olympics Luxembourg (SOL) and the Luxembourg Paralympic Committee (LPC), with SOL receiving €70,000 and LPC receiving €115,000.
Margherita Della Valle, CFO of the Vodafone Group, closed the event and reflected on the past eight years of work on the board of the Vodafone Foundation, and leveraging the group's technology with the energy of its employees.