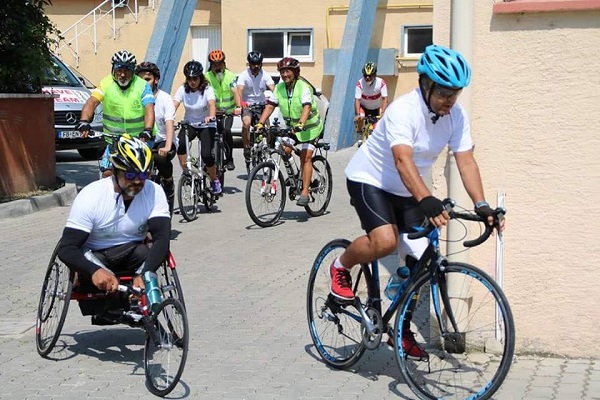 Silent Scream Bicycle Movement;
A disabled team of 12 people will ride a total of 4,500 km within the concept of "silent scream bicycle movement" with the aim of attracting the attention of disability problems in Turkey and around the world.
The team consists of visually, hearing and orthopedically disabled cyclists. They will end the tour in The Hague, The Netherlands, on 1 September, World Peace Day.
"Humanity movement"
A member of "Barricade Art Atelier" Hüseyin Nacar who started the "silent scream bicycle movement" said "I make projects for disabled people. We will ride in 10 different European countries on 49 days. This is the first time in the world. This isn't only a cycling activity, but also we will visit some important decision makers in UN, FİFA, UEFA, European Bicycle Federation, Human Rights organisations to attract the attention for disabled persons and their rights and problems. Tho this aim we are riding. Therefore, we are screaming silently. We called our movement as "silent scream" and "cycling to life" because this is obviously a humanitarian action. We will demand in front of Human Rights Court in Strasburg equal rights of disability. We will demand all legal obligation to keep ready psychologists, pedagogue, psychiatrists and sign language translators everywhere in the life where it is needed so that they can't be also handicapped with serious lack of equal rights any more. Wars cause to increase the number of disabled persons. War means scarcity, hunger, poverty, plunder and lost of peace. We are against war. We are against all kind of patch and terror. We will come insistently to all trials as party and claimant to defend disability rights. We will stay in front of doors and introduce Turkey to all over the world. We thank you very much to Mr. President Erdogan and his press consultant Mr. Zafer Demez for supporting us. We invite everybody to Kapıkule to scream silently together with us. There are 12 members in Team. We organised this team from each disabled group such as visually, hearing and orthopedically. There are also friends with epilepsy."
A message to forward
"We are dreaming" said visually disabled member of the "World without Barricade" group, Sule Yazıcı. "First time I'm out of the city and country in such a long tour. I'm very excited since I don't know what is waiting for us. I love cycling very much. But this tour is very long. I will be riding very much. There are places we want to travel. There is a message which we must forward. We are starting to this journey with confidence."
Don't let newly disabled attain to the army of disabled
Another member of the team, Ekrem Taskın, a veteran cyclist from the city of Balıkesir, said also "I'm a national sportsman for 5 years. I am swimming first then cycling, running at last. Of course, the ranges on these are definite. Later I take part in Olympic games. I represented my country successfully. As a person being later disabled, I have been wasting my time to my disabled sisters and brothers. Being disabled is not so important but rather then to go beyond this barricade is very important. It is said to me whether I can attain to the team to call a message for disability rights. I have accepted joyfully. I hope there will more attendance on the road during tour. I have a request form our internal minister and foreign minister to call our embassies over the road to support us by giving us accommodation and food and beverages. There is no other expectation on our side. We just want that there shall be no more new participation to the army of disabled people."
Another side, explained Huseyin Nacar, expressing his condolences and said that they took some soil where there was a thunderbolt stroke last week on a group of German and French cyclists. One cycler died due to this thunderbolt. He added "we were affected from deep due to this accident. We are sharing mourning of cycling societies and sorrow of the family of our German friend we lost. As Mustafa Kemal Atatürk has said once for the fallen Anzac soldiers in Çanakkale. "Your children are now our trust forever", we will take this soil and bring to his family and Prime Minister Merkel".
The current route of Silent Scream Cycling Team includes Turkey (start on 15 July), Bulgaria, Romania, Hungary, Austria, Germany, Switzerland, France, Luxembourg, Belgium, The Netherlands.
The team will approach Luxembourg from Sarreguemines in France (just south of Saarbrucken; a 56km ride), arriving on 25 August, then departing on 27 August for Beauraing in Belgium (near Han-sur-Lesse; a 118km ride). While in the Grand Duchy they will stay at the Youth Hostel in Luxembourg city.