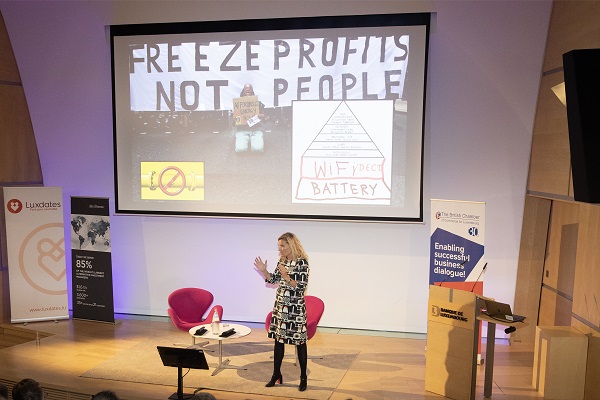 Liselotte Lyngsø, futurist; Credit: Steve Eastwood
The British Chamber of Commerce for Luxembourg (BCC) invited futurist Liselotte Lyngsø to speak at its Leadership Forum held on Wednesday 19 October 2022 at the Banque de Luxembourg.
Daniel Eischen and Lene Pedersen, respective Chairs of the BCC and its People & Leadership Group, gave a warm welcome to Liselotte, a special guest visiting from her home country of Denmark to help mark the 30th anniversary of the BCC.
In a dynamic presentation, the audience was taken on a journey to the future, full of artificial intelligence (AI), natural language processing, chatbots, quantum computers, robots and the metaverse. It became clear that these major technological advancements will increasingly affect how we will communicate, work collaboratively and even define our most significant relationships.
As a professional futurist, Liselotte Lyngsø is someone who predicts a host of possibilities, such as how we are likely to work, rest and play, what we will consume and how we will manage our health in the near and distant future. According to Dr Keith Amoss (career coach and BCC People & Leadership Group member), who reported on the event, that makes her a highly valued consultant for several global organisations where she gives sought-after advice on where their resources should be targeted.
Lyselotte opened by highlighting that in these particularly challenging times with so many external forces at play (whether economic, social or environmental), companies were eager to know what was coming next. In fact, significant change is already here - albeit at an early stage in some cases. She expressed her confidence that the development of the metaverse will mean spending a lot more of our time in virtual reality (VR). She foretold that at some point we will be able to hug each other, taste and even smell in the virtual world through our avatars and holograms.
Lyselotte was also clear on the importance of democratising technology so that people can make collective decisions on what they want to happen rather than being led into a dystopian world. In her view, we all have a responsibility to consider what kind of society we want to create for the future.
With regard to leaders, she felt that they needed to embrace the future with curiosity and with a neutral, apolitical stance. The ideal state, she believed, was to see these new developments as both interesting and exciting.
The evolution in many areas will be significant and we may be moving from an information society to a new age of precision, she stated. This would mean that technology would be treating us more as individuals and customising services to our individual needs. This would be based on high quality data collected and analysed to see where the most value would be created. As an example, Lyselotte cited a fictitious cleaning company which in the future would be able to determine from data analyses rather than human observation what needed cleaning, when, where and for how long.
We have many options at our disposal and, according to Lyselotte, it is important to notice that with the transformations now taking place there are risks, such as with the use of "deep fakes" where famous people's faces and voices are used to create lifelike video recordings. This could lead to more scams and fake news.
She pointed out that some lessons had already been learned from our collective COVID-19 experiences. These could take us forward in that it seems that some of us will be time owners, i.e. deciding where and when we work, while others will be time slaves, i.e. tied to particular jobs, hours of work and locations.
The evening ended with thanks to the sponsors, Luxdates and Alter Domus, and with a lively networking opportunity where Liselotte took the time to mingle and answer questions.