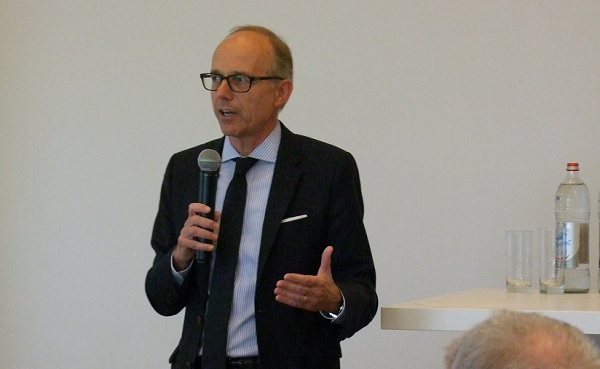 Luc Frieden addressign the BCC;
On Thursday 13 September, the British Chamber of Commerce (BCC) in Luxembourg held a luncheon meeting at La Table du Belvedere on the Place de l'Europe in Luxembourg-Kirchberg.
Jill Saville, Vice-Chair of the BCC, welcomed the circa 100 members and the event's guest speaker, Luc Frieden, who talked on the topic "Brexit on the illusion of Sovereignty"
Luc Frieden started his address by referring back to his student days in the UK which was possible under the free movement of people.
He referenced the referenced the referendum that took place in June 2016, and he remarked that we still don't know how the future relationship between the UK and the EU will work. He stated that the complexity of the issue was over-estimated by many; he also acknowledged that there are huge differences on both sides of the Channel. One the EU side, he explained that all 27 EU Member States have to ratify the future agreement / relationship, and stressed that not all EU Member States look at the issue in the same way.
He talked about the dilemma of sovereignty and asked what it means; he also asked can nations nowadays decide on their own? He referenced the US and talked about the establishment of the United Nations for a liberal and free new order.
He referred to statements that the UK wants to be closer to the EU than any other country, "equivalence ++", yet wants to leave the EU, a paradox that he could not understand or explain. He stated that either a country is sovereign, and on one's own, or part of a grouping such as the EU - there can be no middle ground.
Regarding President Trump of the US, Luc Frieden criticised him for making statements and promises that he would know could not work.
The biggest challenge we are facing today is cross-border migration. Even though the UK will be outside the EU, cross-border migration will still be an issue as migrants will still want to go to the UK.
Today, if one needs to be efficient, one needs to be part of a larger organisation - this he learnt when he was Minister responsible for the police in Luxembourg; it still applies nowadays.
"So, sovereignty cannot exist if you want an addition" he stated.
He talked about the EU being a unique model in the world of living together; advocating values can be done better together rather than embracing sovereignty.
He concluded by stating that in a number of years time, he hopes that the United Kingdom would consider re-joining what would, be then, be a reformed European Union.