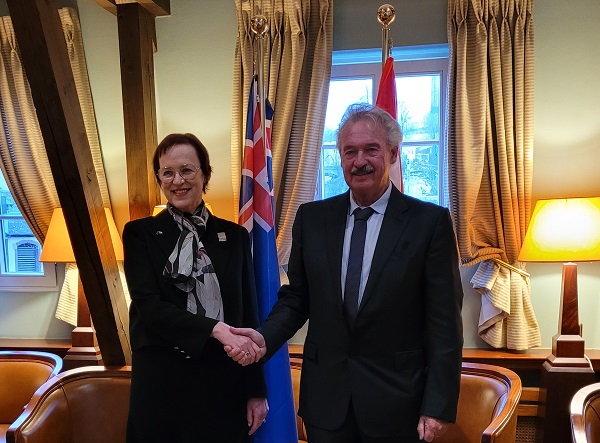 (L-R) Caroline Millar, Australian Ambassador to Belgium, Luxembourg, the EU & NATO; Jean Asselborn, Luxembourg's Minister of Foreign & European Affairs; Credit: Jazmin Campbell / Chronicle.lu
On Tuesday evening, the Australia and New Zealand Chamber of Commerce Luxembourg (ANZCCL), together with the Australian Embassy in Belgium, held a panel discussion dedicated to exploring the opportunities (and potential challenges) of the Australia-EU Trade Agreement for Australia-Luxembourg trade and investment at Cercle Munster in Luxembourg-Grund.
Maya Joshi, ANZCCL co-chair and founding board member, introduced the event, which brought together about 50 people (representatives of various companies, including SMEs, the Embassy and Luxembourg's Ministry of Foreign and European Affairs, as well as members of the press) at this prestigious venue. She noted that the ANZCCL sees "promising signs of trade and investment between our two countries". She highlighted the fact that Luxembourg is Australia's seventh largest inbound investor, adding that the two countries share friendly relations but do not yet seem to know each other well. The ANZCCL thus hopes to promote this friendship and partnership through events.
In her opening remarks, the Australian Ambassador to Belgium, Luxembourg, the European Union (EU) and NATO, Caroline Millar, who is based in Brussels, expressed her delight at being back in the Grand Duchy. She thanked the ANZCCL for their efforts in making this event a success and promoting Australia-Luxembourg relations in general. Whilst the two countries already boast strong economic ties - stronger than some might think, particularly regarding trade in services - the Ambassador described the relationship between Luxembourg and Australia as "more than an economic partnership"; they are two "like-minded democracies with shared values and rule-based order". She also emphasised strong Australia-EU ties, as demonstrated more recently by their similar approach to Russia's "illegal, immoral" invasion of Ukraine (sanctions, NATO contributions, etc.).
Luxembourg's Minister of Foreign and European Affairs, Jean Asselborn, in one of his first public appearances since being released from hospital (flu treatment) recently, delivered a welcome address, in which he reflected on "longstanding friendly relations" between Luxembourg and Australia. He thanked both the ANZCCL and the Embassy for putting together this event. He spoke about his visit to Australia in September 2016, which was an "excellent opportunity to strengthen people-to-people connections", and expressed his delight that such exchanges (and travel) could resume after the COVID-19 pandemic. At the economic level, he highlighted the "promising" trend in the exchange of services between the two countries. Nevertheless, "significant" scope remained to "further develop and deepen trade relations". He described the important role played by ongoing Australia-EU Trade Agreement negotiations in this context. Concerning areas where Luxembourg sees potential for stronger cooperation, he cited the steel industry, satellites, research and innovation. Minister Asselborn recalled that the Grand Duchy was a "staunch supporter of free trade". He added that in the current "difficult geopolitical context", the future trade agreement will play a "central role" in "deepening relations", not only in terms of economic opportunities but also in enhancing the joint response to "complex global challenges" such as climate change. He expressed his gratitude for Australia's "strong support" for Ukraine, noting that the country has been working closely with the EU on sanctions and trade measures. He stressed that, in the current context, "close partnerships, common undertakings and mutual trust are more critical than ever". He concluded that Luxembourg is ready to "serve as a bridge builder and gateway between the two regions".
The event continued with an expert panel discussion, moderated by Maya Joshi, and a Q&A session, featuring David Brightling (Minister Counsellor (Trade) at the Australian Embassy in Belgium), Marc Wagener (COO of the Luxembourg Chamber of Commerce), Rosa Villalobos (Managing Director at Macquarie Asset Management) and Marc Serres (CEO of Luxembourg Space Agency - LSA).
David Brightling, on his first visit to Luxembourg, highlighted the "timely" nature of this discussion amid "renewed momentum" to conclude trade agreement negotiations this year. He presented the background to this trade agreement as well as its objectives, for example to improve market access and reduce trade barriers, open up opportunities in services and promote shared objectives on trade. Since discussions began in 2018, significant events have had an impact: the COVID-19 pandemic, which disrupted global supply chains; Russia's invasion of Ukraine, which highlighted the "reinforced importance of having like-minded partners"; the EU Green Deal - he noted that Australia is "well placed" to assist with this green transition. He hoped that the fifteenth round of trade agreement negotiations in Brussels would mark a "decisive turning point" and take the partners one step closer to bringing negotiations to a conclusion.
Marc Wagener agreed that like-minded partners were important, not least in today's "troubled times". He lamented that there seemed to be so much bad news out there and hoped that progress on the trade agreement could be the good news we need. He emphasised the need for new economic opportunities as well as the need to raise awareness of such opportunities. Since both countries already share trade relations, there is an existing "platform to build upon".
Rosa Villalobos described Luxembourg's investment fund sector as the "gate to Europe" and agreed that there was a need to raise awareness and inform both countries of their similaries and strengths.
Marc Serres reflected on Luxembourg's space sector and its growth, particularly since the 1980s when the country had the "courage" to launch a private satellite operator (today SES). He stressed that space is a priority sector within Luxembourg's policy to diversify its economy, and this is one area in which the Grand Duchy and Australia could collaborate further in future.
In response to Maya Joshi's questions, the panellists touched on the main potential outcomes of the trade agreement for Luxembourg and the potential challenges on both sides. David Brightling recalled the aim of "set[ting] a clear consistent framework to enhance business opportunities". Marc Wagener cited the distance between the two countries and shipping issues as potential challenges, adding that it was important to look at the mutual recognition of standards. He also cited labour mobilitiy and a lack of awareness as challenges, but challenges which could be overcome. Finally, he stressed that the trade agreement, particularly the services chapters, should be drafted in a language that is easy to understand (to avoid transaction costs for businesses, etc.). On the Australian side, Rosa Villalobos described this as an "opportunity to explain" Luxembourg's multicultural business environment and its other strengths as a potential gateway to Europe. Marc Serres went into more detail about existing cooperation between Luxembourg and Australia in the space sector, for example through universities, adding that the trade agreement would "facilitate a lot of things", including potential further cooperation in the space industry, but that it was a matter of "creating a bridge between the countries" and raising awareness of the opportunities.
Following a lively Q&A session, attendees networked and discussed the subject further over Australian wine and finger food.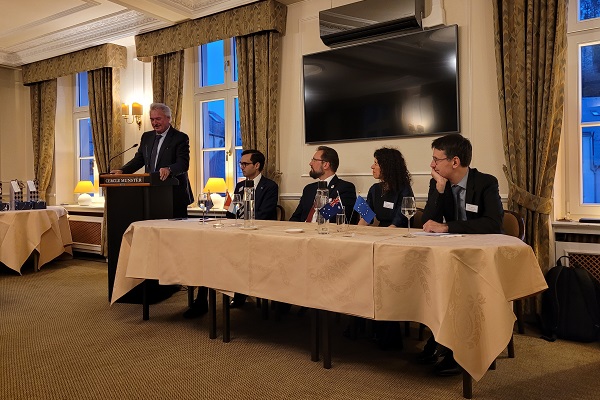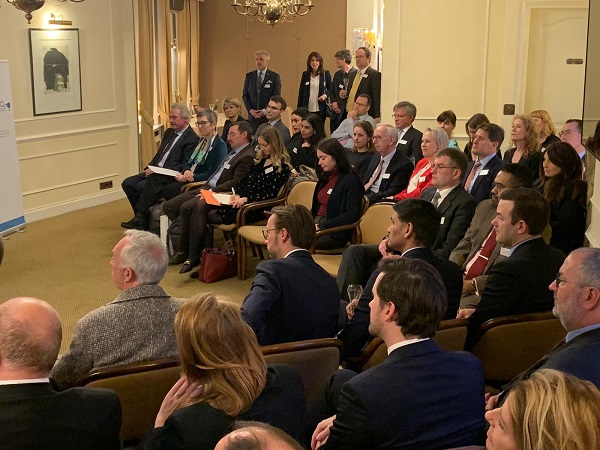 (Photo credits: Chronicle.lu; Australian Embassy in Belgium)