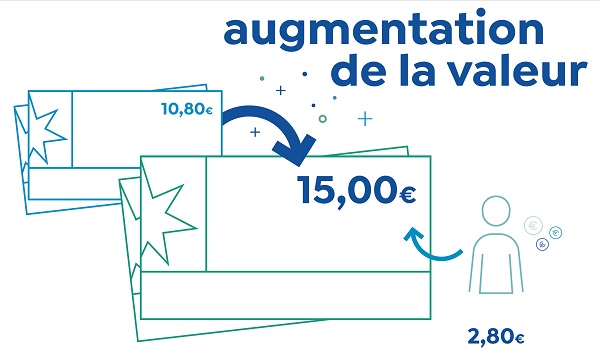 On Friday 9 June 2023, Luxembourg's Minister of Finance, Yuriko Backes, and the Secretary General of the National Federation of Hoteliers, Restaurant Owners and Cafetiers (Horesca), François Koepp, unveiled the new digital plan for Chèques-Repas (meal vouchers) which will involve an overhaul of the current Grand-Ducal regulations relating to meal vouchers and will come into force on 1 January 2024.
The reform will increase the maximum exemption value of meal vouchers from €8 to €12.20: with an employee contribution of €2.80 (which remains unchanged), the total value of a meal voucher will rise to €15. In addition, the new scheme plans to set the maximum number of meal vouchers that can be used per day at 5, bringing the maximum use to €75 per day.
Among other notable improvements, the amended Grand-Ducal regulations will clarify the criteria for using meal vouchers. In response to changing eating habits, the definition of a meal has been extended to also include food purchases from restaurants or merchants affiliated with one of the companies issuing meal vouchers. The old concept of "working day" has been repealed to allow employees to use meal vouchers also at the end of the day, on weekends or during holidays, which is not permitted under the existing rules.
The digitisation of the meal voucher scheme promises a significant reduction in administrative burdens for companies, in particular eliminating the need for manual distribution of vouchers. It will also offer simplified day-to-day management for restaurateurs and merchants, by accelerating collection and simplifying the procedures for verifying the validity of cheques. In short, this modernisation is a major step forward for all the players involved. The old paper meal vouchers can still be used until the end of 2024.
Yuriko Backes stated: "This reform is a concrete example of our commitment to supporting the purchasing power of citizens. In today's economy, every effort counts. Meal vouchers are not only a salary benefit, but also an important tool to support the catering sector. This modernisation takes into account the needs of our society while ensuring more efficient and equitable management of the system. I would like to thank the Horesca representatives and the representatives of the meal voucher distributor companies for the valuable collaboration around this redesign."
François Koepp added: "The meal voucher scheme is now more in tune with reality and will also facilitate the work of restaurateurs. This new method will guarantee a 100% refund of meal vouchers. Additionally, businesses will no longer need to collect and mail checks to issuing businesses. This represents considerable advantages in terms of management for companies in the Horesca sector."
This reform is part of the commitment made by the government in the 2018-2023 coalition agreement, which provided for the modernisation and digitisation of the meal voucher scheme.