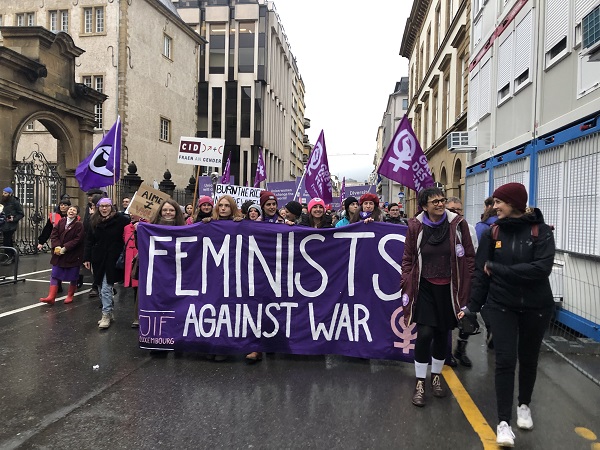 Feminist March, 8 March 2023; Credit: Otilia Dragan / Chronicle.lu
About 1,000 people gathered on Wednesday evening for this year's feminist march on the occasion of International Women's Day on 8 March 2023.
The procession wore purple accessories to show solidarity and participants represented Luxembourg's diversity: women, men, non-binary people, all age groups and multiple flags of the LGBTQ+ population, as well as people of colour and of various ethnicities. Representatives of many non-profit organisations were present, such as Amnesty International, Femmes en Détresse and Turkuaz Asbl. The Centre CIGALE held a five-metre-long Progress Pride flag. People were chanting slogans such as "One solution: queer revolution", "Fières, solidaires, pas prêtes à nous taire" (Proud, solidary, not willing to be silent),"So-so-so-solidarité avec les femmes du monde entier" (Solidarity with women all around the world), accompanied by cheers and the sound of drums.
Despite the intensifying rain, the march started at Place Hamilius in Luxembourg-Ville, before heading towards Luxembourg's Ministry of Education, Children and Youth, along Rue de Notre-Dame, continued across Rue du Fossé and along the Grand-Rue, finally stopping at Place d'Armes.
The first speaker pointed out that "all [political] colours but one" were present in the crowd, and that this year it had been difficult to convince private companies that the public sphere should be free for gathering. She also called for solidarity with the women in Iran, and called for the slogan "Jin-Jiyan-Azadi" (Women, Life, Freedom), the political Kurdish slogan associated with the guerrilla women of Kurdistan in arms against the Iranian State. This slogan accompanied the civil unrest and anti-government protests which began in Iran last year (and which many are calling a revolutionary uprising).
The following speakers went into detail concerning the four announced demands of JIF Luxembourg, the organisers of the march: the right to affordable and decent housing, a life without violence, financial stability and family equality.
Tina Koch, the speaker from the Luxembourg Socialist Workers' Party (LSAP) pointed out how particularly vulnerable individuals (those living with a disability, LGBTQ+, people of colour and women) may suffer most from the national housing crisis, which has been an issue for years now. She noted how dangerous it can be when women are financially dependent on their partners, and that they can easily become "trapped" in circumstances that may become life-threatening.
Stéphanie Limberg, from the Left (Déi Lenk) political party, deplored the two homicides committed by men against their female partners last autumn. She called for the changing of the criminal code to include femicide as a crime, because, she highlighted, "some kill women just because they are women". She also advocated the recognition of other types of violence that are not physical, but nevertheless debilitating. Psychological violence, for one, and all the other types of violence listed in the Istanbul convention – the Council of Europe Convention on Preventing and Combatting Violence Against Women and Domestic Violence. One way to combat gender-based violence, Limberg went on to say, is that of "prevention and sensibilisation, starting the debate and breaking taboos", as well as strengthening the legal framework that would combat structural violence.
According to Milena Steinmetzer from the OGBL trade union, women still bear the brunt of childcare and domestic work and this can only change if "work time can be reduced". She added that, despite Luxembourg having the smallest gender pay gap in Europe, there are other structural issues that need to be addressed, such as women often doing more unpaid domestic work than their male counterparts – and this could be alleviated through the creation of a three-month leave for the second parent linked to the birth of a child, a leave that would be compensated by a full salary.

Lastly, Joana Domingues from the Greens (Déi Gréng) discussed the importance of politics within the family, and how enabling both parents to care equally for children via the aforementioned measures would help shift ideas of "woman at home, man at work".
The feminist platform JIF pointed out before the end of the event that an exhibition will be organised where people's various banners would be displayed.