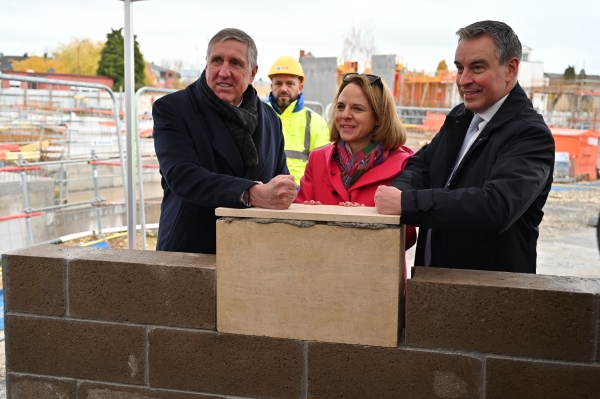 Credit: MMTP
On Monday 21 November 2022, Luxembourg's Deputy Prime Minister and the Minister for Mobility and Public Works, François Bausch, the Minister for Education, Children and Youth, Claude Meisch, and the Minister for Family and Integration, Corinne Cahen, laid the first stone and the first shovel of the socio-medical facility for children and youth in Petange.
As part of the master plan of the municipality of Petange, the construction programme is being developed on two separate sites in the centre of the town of Petange at the Batty Weber site and the Robert Krieps site.
According to the ministires, the main ambition is to revitalise the centre of Petange where soft mobility and urban integration are highlighted.
The project will bring together a national nursery, a psychotherapeutic boarding school with a therapeutic and administrative centre, a socio-family boarding school, housing for autistic people and parents with disabilities, an underground car park and a medical centre in a building of infrastructure shared on two different sites in Petange, thus fulfilling a social function for the needs of structures in great need at the national level.
The buildings will have a guaranteed energy performance classes of AC or AB or AA. In addition, they will comply with thermal insulation standards. Also, due to their compactness, the planned structures have an excellent ratio of surface area to built volume, which makes it possible to reduce energy and heating requirements.
Photovoltaic solar panels will be installed on flat roofs and the excess energy they produce will be injected into the public electricity grid. Similarly, thermal solar panels will installed on the roofs of residential buildings.
An extensive green roofing on all the buildings will further contribute to limit the overheating of the slab and maximise rainwater retention.
At the Batty Weber site, the total annual thermal energy consumption of the buildings will be approximately 410,000 kWh, while at the Robert Krieps site, it will be approximately 175,000 kWh.
The total cost of the project amounts to €116,800,000 including tax. The provisional commissioning will take place in autumn 2025/2026.