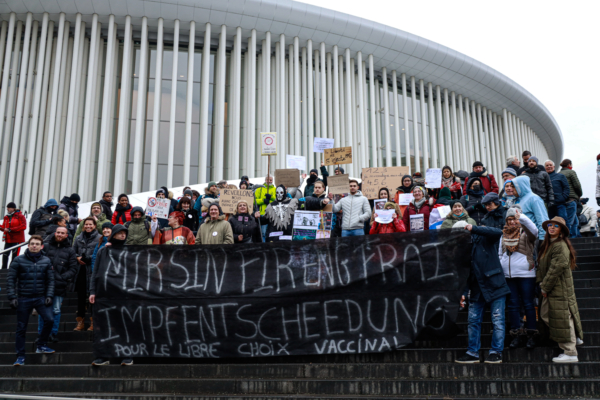 Demonstration in Philharmonie, Luxembourg-Kirchberg 22 January 2022; Credit: Ali Sahib
On Saturday 22 January 2022, Luxembourg-ville witnessed another COVID-19 demonstration, one which had the necessary authorisation unlike one last week-end at which a number of people were arrested; it started from the Glacis car park and crossed the Red Bridge to the steps of the Philharmonie in Luxembourg-Kirchberg.
Chronicle.lu was present at the demonstration and estimated that there were 300-350 people took part in the protest. Later Chronicle.lu talked with a Grand Ducal Police spokesperson who confirmed that the number was estimated at around 250.
The demonstrators gathered in the city centre from around the Glacis car park in Luxembourg-Limpertsberg and walked down the Avenue John F Kennedy towards the Philharmonie, Luxembourg-Kirchberg. The protest concluded at around 16:30, back around the Glacis car park.
Avenue John F. Kennedy was temporarily closed to traffic.
The police were present in order to supervise the protest and to intervene in the event of public order disturbances.
A Grand Ducal Police spokesperson confirmed that the protest passed off peacefully and without incident.
The Grand Ducal Police later confirmed that one arrest was made later in the evening.