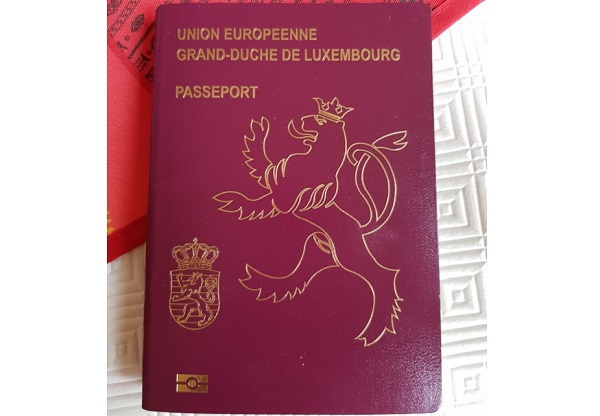 According to figures published on Tuesday by Luxembourg's Ministry of Justice, a total of 6,801 people obtained Luxembourgish nationality in 2021.
The number of people having acquired Luxembourgish nationality through the naturalisation, option and reclamation procedures decreased from 9,389 to 6,801 over one year (a decrease of 2,588 people or 27.5%).
In 2021, 4,558 people acquired Luxembourgish nationality by option. This procedure is possible in ten specific cases, including for adults with a Luxembourgish parent, adoptive parent or grandparent, persons over the age of 12 who were born in Luxembourg and adults having resided legally in Luxembourg for at least 20 years.
A total of 1,363 people reclaimed Luxembourgish nationality. This procedure is open to adults having lost their status as Luxembourgish nationals, for instance people with a direct maternal or paternal ancestor who held Luxembourgish nationality as of 1 January 1900 but the nationality was later lost.
880 people obtained Luxembourgish nationality by naturalisation. This procedure applies to any non-Luxembourgish national having legally resided in Luxembourg for at least five years, passed the "Sproochentest" Luxembourgish language exam and taken the "Vivre ensemble au Grand-Duché de Luxembourg" citizenship course or passed the test of the same name.
Most new Luxembourgers in 2021 came from France (1,704 people), followed by Portugal (1,141) and Belgium (844). Others were originally from Germany (289), Italy (283) and the United Kingdom (201), among others.
According to the Ministry of Justice, this decrease in the number of people having acquired Luxembourgish nationality compared to previous years can be explained as follows:
- The reclamation procedure based on Luxembourgish ancestry (see above) will soon expire. The deadline for completing the formal declaration to reclaim Luxembourgish nationality was extended last year to 31 December 2022
- Due to travel restrictions linked to the COVID-19 pandemic, many applicants residing abroad were unable to organise their trip to the Grand Duchy to complete the formality of signing the reclamation declaration before the civil registrar. These were mainly applicants from Brazil and the United States of America.