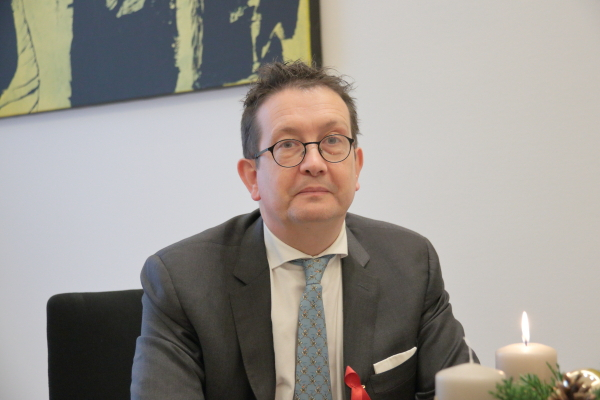 Maurice Bauer, Alderman of the Ville de Luxembourg; Credit: Kangkan Halder
Speaking to Chronicle.lu on Thursday 2 December 2021, Maurice Bauer, Alderman on the Luxembourg City municipal council for social action, senior services, housing, gender equality, integration policy and youth, shared an overview of the various social actions under his broad remit and the supportive measures available, especially for residents at risk of poverty.
According to Luxembourg's national statistical office, STATEC, there were over 105,000 at-risk-of-poverty residents in Luxembourg in 2018. Alderman Bauer, aware of the needs of individuals and families in need of support, emphasised the availability of more than 700 social housing units. Recognising the difficulty facing many during the COVID-19 pandemic and the pressure for job security and housing, Mr Bauer elaborated on the various social actions undertaken by the state as well as the municipality of Luxembourg City.
More specifically, the City of Luxembourg (Ville de Luxembourg - VdL) has introduced a solidarity allowance in addition to the cost-of-living allowance paid by the National Solidarity Fund, and the number of applications received remained relatively stable at 3,900 in 2020, compared to 4,000 in 2019 (rounded off to the nearest 100), showing that the pandemic did not aggravate the situation.
Alderman Bauer underscored the decision to launch the Winter Action (Wanteraktioun) of the Ministry of Family Affairs, Integration and the Greater Region earlier this year, on 23 November 2021, compared to the general start date of 1 December, with the aim of preventing homeless people from falling victim to hypothermia during periods of extreme cold. Mr Bauer confirmed that there are enough beds and said that "nobody in the Ville de Luxembourg has to sleep outside". However, he also felt helpless that it cannot be forced and that many people are still living on the streets of their own will.
To alleviate the situation and bring information to those in need, Alderman Bauer stressed that there are eighteen "street workers" who communicate on a daily basis with people living on the streets. Confidence and understanding are the key to bringing people in need to the facilities, he explained. There is also a bus service to bring homeless people to the Winter Action facilities. But again, this cannot be forced.
In light of the pandemic-related measures and job losses or short-time work in the hotel, restaurant and cafe (HoReCa) sector, jobs which are generally low-paid and hence affect families living at risk of poverty, Alderman Bauer mentioned that one-quarter of the subsidised vouchers redeemable at bars, restaurants and shops were provided to families in need through the social welfare offices. These helped both low-income families as the HoReCa sector. Mr Bauer further underlined that hundreds of terraces had been allowed to open in the capital as a consequence of the restrictions on indoor services, which were limited to very few customers. This has not only helped businesses to serve more customers but also brought more greenery and open spaces to the city.
In terms of support for single parents, Mr Bauer mentioned that the City of Luxembourg has asked the Luxembourg Institute of Socio-Economic Research (LISER) to carry out a study on social monitoring which would contribute to better coordination and targeted support. Mr Bauer also pointed out that the municipality is financially supporting an association which provides childminding services for single-parent households.
In his concluding remarks, Mr Bauer showed confidence in the various social actions in place to alleviate the pressure on at-risk-of-poverty households and mentioned that in December 2021 or early January 2022, the public toilets in the municipality of Luxembourg City will be equipped with female hygiene and contraceptive products, lending a helping hand to anyone in need.