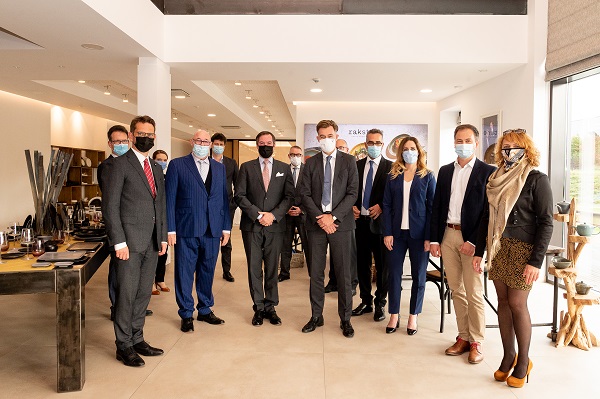 The Hereditary Grand Duke Guillaume visiting RAK Porcelain Europe;
On Thursday 7 October 2021, two years after their move to new premises in Bettembourg, the RAK Porcelain Europe teams welcomed HRH the Hereditary Grand Duke Guillaume of Luxembourg in the presence of a number of prominent guests from the politico-economic scene in Luxembourg, including Luxembourg's Minister of the Economy, Franz Fayot, the director general of the Chamber of Commerce, Carlo Thelen, the mayor of the municipality of Bettembourg, Laurent Zeimet, and the alderman Jean Marie Jans.
The visit included a guided tour of the building offering a triple function of logistics platform, European operational centre and showroom.
RAK Porcelain is specialised in the design, manufacture and distribution of high quality crockery, cutlery and crystal glasses for hospitality professionals: it is a Diamond sponsor at the Dubai World Expo 2020.
The European branch, RAK Porcelain Europe, was established in Luxembourg in October 2005. On the strength of its excellent results in terms of marketing, the refined ceramics company from the Middle East took a decisive step in 2017 with the construction a new multipurpose building. Located in the Wolser industrial zone in Bettembourg, the new building, which was occupied by the teams in 2019, has a surface area of ​​5,534 m2 (compared to 2,800 m2 previously) for a storage capacity of more than 10,000 pallets. The new headquarters has enabled the company to hire 12 additional staff, for a total of 60 today. As for the annual turnover, it peaks at €20 million.
The entire management team of RAK Porcelain, made up of Claude Peiffer, Managing Director, Mariella Di Giambattista, Administrative and Financial Director, Bertrand Lecante, Marketing Director, Letizia Moes-Heinen, Sales Director, and Vincent Mathieu, IT Director, invited its guests to discover its modern and functional facilities and equipment. A presentation of RAK Porcelain's corporate strategy and tableware products took place in the showroom, and guests were able to explore the offices and logistics structure.