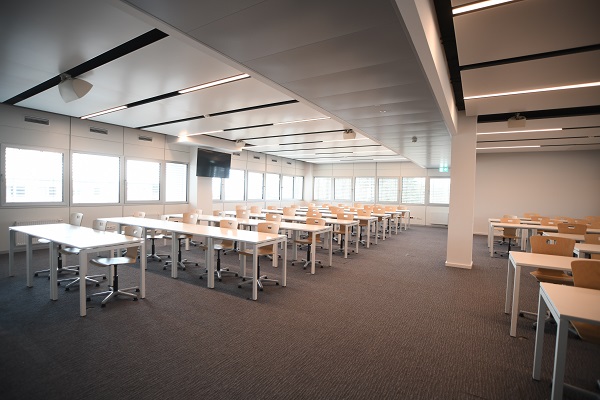 (Above) Police Academy interior; (below) Henri Kox, Luxembourg's Minister of Internal Security; Credit: Police Grand-Ducale
Monday marked the inauguration of the new premises of the Luxembourg Police Academy (École de Police), in the presence of the Minister of Internal Security, Henri Kox, and the Director-General of the Grand Ducal Police, Philippe Schrantz.
The new premises of the Police Academy are located in a building that has been completely redesigned according to the specific needs of police training in Luxembourg-Findel (Rue de Neudorf) and can accommodate around 200 police officers in training per year.
Several classrooms and a large room with a capacity of 200 people were installed on the three floors of the main building, as well as offices for management, teaching staff and administrative services.
In addition, the Police Academy houses a computer room equipped with 100 workstations, a canteen and a room for conducting webinars. A sports hall and changing rooms have been set up next to the main building.
Certain courses will continue to be provided on the Luxembourg-Verlorenkost site of the Police Academy, where the Centre national de tactique policière and the Centre national de conduite are located and where continuous training for staff also takes place.
Civil servant trainees will undergo a two-year police training course, comprising a phase of theoretical and practical training and a practical initiation phase within the police stations and the judicial police service.
During the first year, which takes place at the Police Academy, officers in training will learn, among other things, police and security techniques as well as the legal framework of police functions and missions. They will take courses on administrative and judicial police and road traffic. The programme also includes physical and sports education and lessons in the use of weapons.
The practical initiation phase, which consists exclusively of learning in the field, will have a strong practical orientation, with the main objective of rapid assimilation of theoretical knowledge through practical experience.