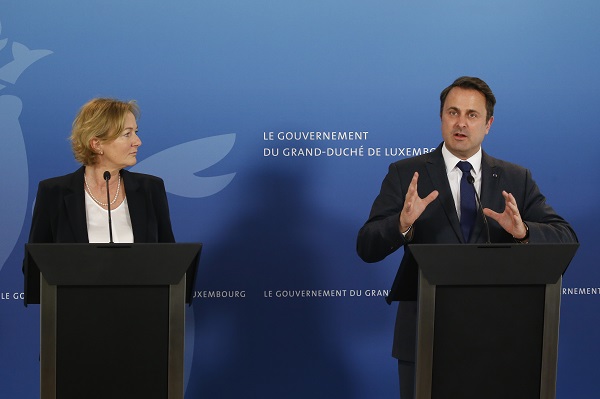 L-R: Paulette Lenert, Minister of Health; Xavier Bettel, Prime Minister; Credit: SIP
At a press conference on Friday afternoon, Luxembourg's Prime Minister Xavier Bettel and Minister of Health Paulette Lenert announced the extension of current COVID-19 restrictions until 2 April 2021 inclusive.
The Prime Minister noted that the situation remains stable in Luxembourg despite the presence of more infectious coronavirus variants; there has not yet been an exponential increase. That being said, there has been a slight increase in the number of new infections and hospitalisations recently.
He confirmed that 25,999 individuals had been vaccinated to date (with an average age of 83), adding that the vaccination campaign already appeared to be having a positive impact on figures. The number of people aged 65 and over testing positive for COVID-19 has fallen from 15% in November to 9.2% (of overall cases). The numer of hospitalisations for people aged 70 and over has also dropped 10% (but remains high, representing 74% of current hospitalisations). A fuller impact is expected to be felt in a few weeks. Prime Minister Xavier Bettel also rejected claims that surplus vaccine doses were going unused.
The Prime Minister confirmed that the government has now approved the use of the AstraZeneca vaccine for people aged 65 and over, emphasising that the vaccine has proven effective against the virus and variants. This change now means that the authorities can revert to their original strategy, i.e. prioritising the vaccination of over-75s and highly vulnerable individuals; people under the age of 65 who already received an invitation remain eligible to get vaccinated (with AstraZeneca). Concerning planned vaccine deliveries, Prime Minister Xavier Bettel expressed hope that things would speed up in April and that the Johnson & Johnson one-shot vaccine would be approved by the European Medicines Agency (EMA) in the next month. By April, 73,435 people could be vaccinated, although this is dependent on the deliveries going as planned.
To date, two rounds of phase 2 invitations have been sent out to people aged 75 and over and highly vulnerable individuals; the acceptance rate has been over 70%. An additional 11,000 invitiations are being sent out today.
Whilst figures remain stable and the vaccination rollout plan progresses, the Prime Minister announced that the current COVID-19 restrictions would remain in place until Friday 2 April 2021. The goal is to be able to reopen certain areas of activity, namely restaurants, and / or loosen restrictions from this date (i.e. in the cultural and sports sectors). The Prime Minister stressed, however, that it would not be a case of opening everything again as "normal", but rather slowly returning to a more normal life, whilst avoiding hospitals becoming overwhelmed.
Health Minister Paulette Lenert added that the situation in autumn proved just how quickly hospitals can reach their limits. She reiterated the importance of continuing to comply with barrier gestures and measures such as keeping one's distance, reducing physical contact and wearing measures. That being said, she was optimistic that the vaccination strategy and measures were having a positive impact and that Luxembourg could eventually return to "normality", little by little. She also recalled that other countries had imposed much stricter measures than Luxembourg.
Regarding rapid testing, the Health Minister confirmed that schools will begin a pilot project soon. Retirement homes will also begin rolling out rapid testing over the next two weeks, in collaboration with Luxembourg's Ministry of Family and Integration.