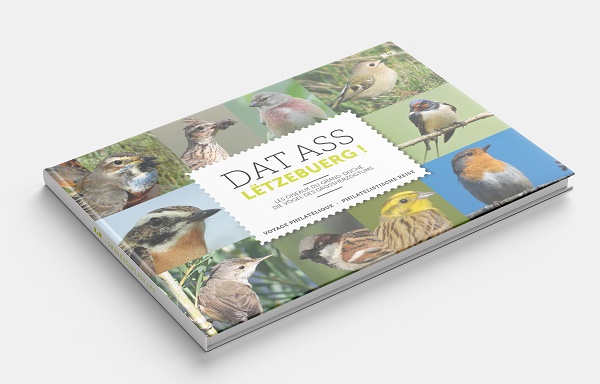 The stamp business component of POST Luxembourg is celebrating wild birds found throughout the Grand Duchy in the 8th edition of its "Dat ass Lëtzebuerg!" album, with a new collection of stamps featuring nine birds; this is to celebrates 100 years of the natur & ëmwelt a.s.b.l.
Since 2012, each year POST Luxembourg invites philately enthusiasts, as well as lovers of Luxembourg heritage, to rediscover Luxembourg through special stamps.
These nine stamps have been produced in collaboration with natur & ëmwelt over the past three years: the association's mission is to preserve nature and educate the general public about nature in the Grand Duchy.
The stamps featured in this new album represent nine species of birds from Luxembourg, painted by Johan de Crem, a Belgian artist (now based in Avignon in France) renowned for his ornithological drawings: his knowledge has been acquired in the field since his adolescence to represent multiple species of birds, with scientific rigor, on different media.
The album also gives pride of place to the knowledge of Patric Lorgé, ornithologist at the Centrale Ornithologique at natur & ëmwelt: he explains how his team and many volunteers tirelessly collect thousands of items of data on Luxembourg birds.
As part of this publication, an exhibition-sale of twenty original paintings by the artist Johan de Crem, takes place until 4 December 2020 in the hall of the Espace POST in Luxembourg-Gare (20 rue de Reims). Access to this exhibition and sale, which is held in strict compliance with current health restrictions, is free-of-charge and is open during normal opening hours.
The 8th edition of "Dat ass Lëtzebuerg!" is also available in the POST Philately online store (www.postphilately.lu), at the philatelic counter (13 rue Robert Stümper, Cloche d'Or), in the POST space in Luxembourg-Gare and in bookstores.