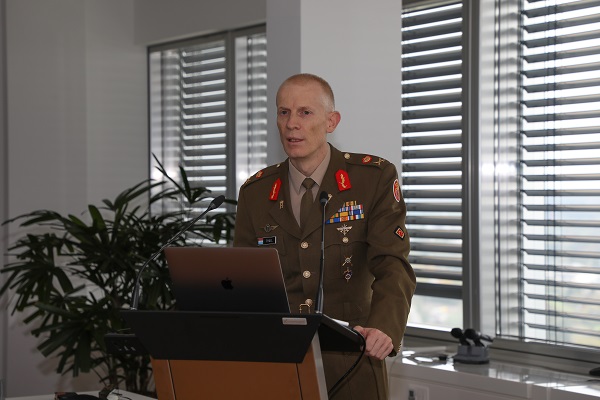 General Steve Thull, Chief of Staff of the Luxembourg Army; Credit: EMA
On Thursday 15 October 2020, François Bausch, Luxembourg's Deputy Prime Minister and Minister of Defence, General Steve Thull, Chief of Staff, and external consultant Erny Gillen presented the first Charter of Values ​​of the Luxembourg Army.
In attempts to put the ethical aspect more at the centre of its actions, the Luxembourg Army has drawn up its first Charter of Values as part of a participatory process ​​over the past eighteen months. The use of weapons as well as the recourse to more and more modern technologies (drones, artificial intelligence, etc.) have generated an increasing number of ethical questions linked to the various missions of the army today.
After accompanying the army in this participatory process, Erny Gillen, with his experience in ethics, presented the methodology used for the development of this charter.
General Steve Thull then presented the charter itself and gave details on the practical implementation of this tool in the context of daily life in the Luxembourg Army. The charter sets out the flagship values ​​which constitute the foundation of the profession of arms and of the military culture in the Luxembourg Army: commitment, honesty and reliability. These flagship values, which govern the ambition to succeed together, are expected to fuel discussions within the army leading to a code of conduct, among other things.