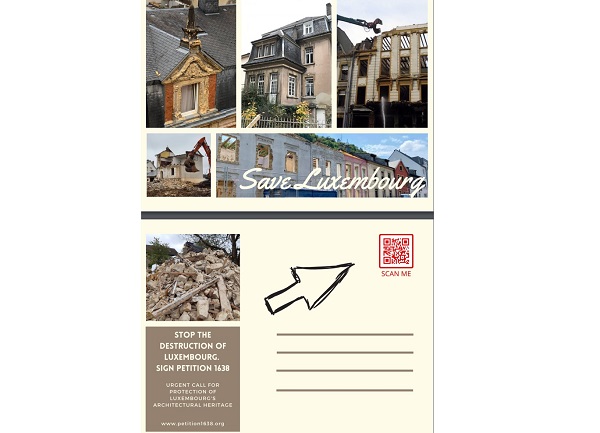 A public petition demanding the urgent protection of Luxembourg's architectural heritage has launched in the Grand Duchy.
The managers of the Facebook page "Luxembourg Under Destruction - Mir wëllen hale wat mir hunn" has launched an urgent appeal for signatures for Petition N° 1638, which aims to put an end to the destruction of historical buildings for profit.
In a statement, the team behind the petition noted that Luxembourg already has relatively few protected buildings in comparison with other countries, maintaining that a substantial part of the country's architectural heritage has already vanished as a result of the real estate market. Whilst recognising the importance of the July 2019 draft law for the protection of cultural heritage, the team recalled that, "while this law is being reviewed and debated in the Parliament, the destruction of valuable architectural substance continues and seems to progress at an increasing pace".
It is in this context that the organisers called on the Luxembourg authorities to "urgently undertake appropriate measures in order to prevent an irremediable loss of Luxembourg's architectural heritage". To achieve this, the team requested that all buildings build before 1955 should be systematically protected, architectural heritage should be considered as a whole and the State, as an owner of architectural heritage, should play an exemplary role and systematically intervene whenever the owner of a protected building fails in his/her obligation to preserve such a building.
They also asked that access to information about construction, demolition and transformation projects be generally facilitated, adding that the protection of architectural heritage should also encompass vernacular architecture, such as bridges or walls. Likewise, the State should undertake additional efforts to raise public awareness about the importance of preserving architectural heritage and information about subsidies for the preservation of old buildings should be made easily available to owners, municipalities, architects and craftspeople.
The petition is open to signatures until the beginning of August at https://www.chd.lu/wps/portal/public/Accueil/TravailALaChambre/Petitions/RoleDesPetitions?action=doPetitionDetail&id=2075.