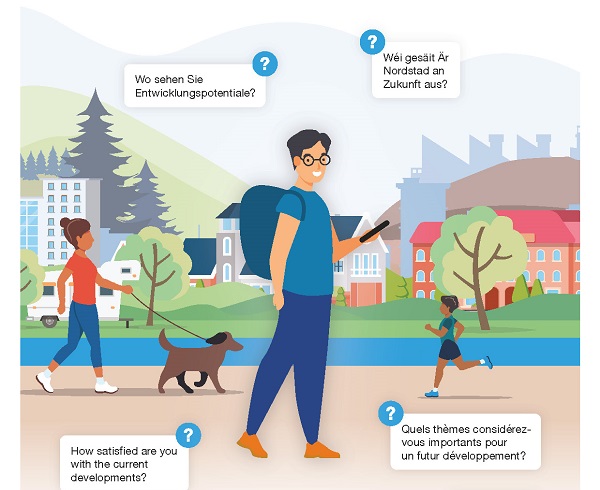 Luxembourg's Department of Spatial Planning has announced the launch of an online citizen survey for "Vision Nordstad 2035".
In close collaboration with the five Nordstad municipalities, the Department of Spatial Planning has begun working on the development of a a territorial vision for the development of Nordstad, a development area in north-central Luxembourg, over the next fifteen years.
The vision is a roadmap for determining the government's political priorities and the results will be incorporated into the ongoing overhaul of Luxembourg's land use planning programme.
Aware that "Nordstad plays a key role in the economic and social dynamics of the north of the country and that it must ensure a better territorial balance and functional decentralisation of the whole country", Luxembourg's Minister of Spatial Planning, Claude Turmes, explained that he would like Nordstad to remain "one of the major pieces of the puzzle of sustainable spatial planning and a priority in terms of investments while further improving the quality of life in the region".
In order to ensure active citizen participation in this joint approach, the Ministry of Spatial Planning and the heads of the five municipalities concerned are launching different types of consultation:
- a citizen council which accompanies the process and formulates recommendations for the conception of the modes of participation;
- an online survey, in German and French, which has just been launched and is accompanied by an awareness video (LU-FR and LU-DE) produced for this purpose;
- an online dialogue in autumn 2020 which will be used to discuss the intermediate results of the territorial vision and to gather additional ideas.
For Minister Claude Turmes, citizen participation is essential because "it is the inhabitants who daily live the region, breathe the territory, it is they who know the strengths, but also the weak points of the space where they live: the best ideas often arise from a dialogue between citizens and political decision-makers". Thanks to the steps already taken and envisaged, it is thus a question of "forging an identity for the future in Nordstad and thereby promoting citizen identification with an exceptional territory in many respects and essential for the socioeconomic future of the country".
The online survey is available until 30 July 2020 at http://surveys.dater.lu/index.php/514275. This survey gives residents the opportunity to actively participate in their future in the Nordstad region and to express their wishes and objectives in all the areas that are important to them.
The survey is aimed in particular at people who live in Nordstad, but also at any other interested individual.