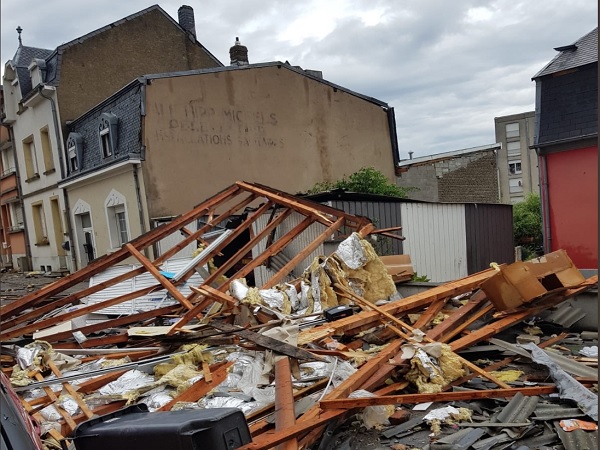 Credit: CGDIS
In light of the tornado that hit the municipalities of Pétange and Kaerjeng on Friday, the Luxembourg Ministry of the Economy has reminded companies of the financial aid available to them.
During its extraordinary meeting on Saturday in the context of the tornado of 9 August 2019, the Luxembourg Cabinet declared the event a natural disaster and calamity. As such, the Ministry of Economy has recalled that companies having suffered damage as a result of certain natural calamities (including tornadoes) are entitled to financial aid.
This aid is aimed at any small or medium-sized enterprise that has suffered damage as a direct result of the tornado. This may include property damage to assets such as buildings, equipment, machinery or inventory as well as loss of income related to the damage suffered.
The companies concerned should contact the General Directorate of the Middle Classes of the Ministry of Economy via tel.: 247-74704 from 08:00 to 12:00 and from 13:00 to 16:00 or via email: info.aide.pme@eco.etat.lu, where they can learn more about the available support measures.
Information on eligibility or the practical steps for applying for financial aid to remedy the damage caused by certain natural disasters can also be consulted on guichet.lu.