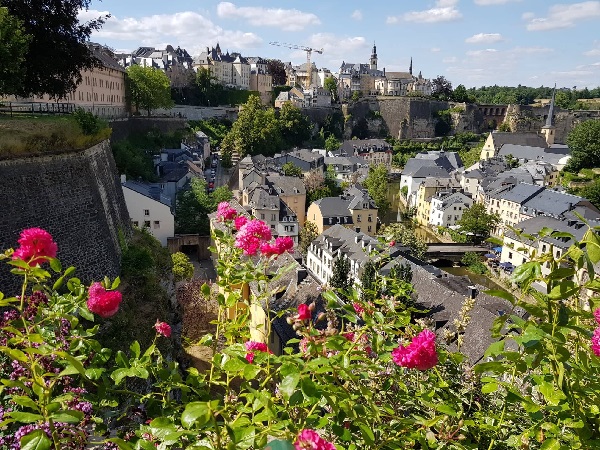 Credit: Jazmin Campbell
Tuesday marked the inauguration of a rose garden at the historic "Rondelles" site near the Cité Judiciaire in Luxembourg-ville.
Set against the backdrop of Luxembourg City's former military fortifications, which have been listed as a UNESCO Cultural World Heritage site since 1994, on the one side, and overlooking the Chemin de la Corniche and Grund on the other, this newly opened rose garden presents the historical richness of the Rondelles site and forms part of the UNESCO walk.
The project stemmed from a speech at the Rondelles given by the Luxembourg Roads Administration ("Service regional Luxembourg de l'Administration des ponts et chaussées") in April 2018. The idea of a Luxembourgish rose garden was reminiscent of the blossoming economy of the Belle Epoque, when roses cultivated in Luxembourg City and its surroundings were exported worldwide.
On Tuesday, the fruits of this project were finally unveiled with the inauguration of the Rondelles Rose Garden (Rousegaart "Op de Rondellen") by Luxembourg Minister of Mobility and Public Works, François Bausch, UNESCO Site Manager Robert Philippart and Claudine Als, President of the association "Roses pour le Luxembourg".
The garden, which is the result of extensive group work, is home to 46 varieties of roses, one-third of which are Luxembourgish, or a total of 188 individual roses spread across 42 flower pots. These extend to a total length of 130 metres and involved the development of a total volume of 30,420 litres of soil.
Each rose variety is accompanied by a sign with its name, a date and a photograph attached to the railing in front, so that visitors can easily identify them. They also feature a QR code that visitors can scan in order to visit a dedicated web page containing additional information. The selected names are interesting in themselves in that they denote various aspects of Luxembourg's history and culture, for instance the "Rosa Indépendance de Luxembourg" roses recalling the end of the Second World War, or the "Rosa Melusina". Other varieties are named after the different Luxembourgish cities.
Employees of the Roads Administration have received training to ensure the upkeep of the roses in the future. Indeed, as Claudine Als commented, the project is expected to continue for a long time. She added that the garden was "the pearl in the Luxembourg rose network" and that it had transformed this former military site into a more open and pleasant space for people from all walks of life, from school classes and residents to tour guides and tourists visiting Luxembourg from abroad.
The total cost of the project was around €5,500 for the roses and €500 for complementary plants, including herbs and various plants aimed at attracting an ever-declining bee population and other insects.