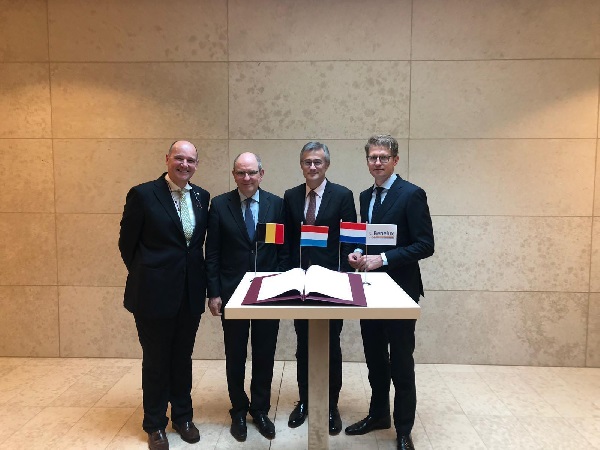 L-R: Alain de Muyser, Secretary General of Benelux; Koen Geens, Belgian Minister of Justice; Félix Braz, Minister of Justice; Sander Dekker, Dutch Minister for Legal Protection; Credit: MJUST
The Benelux Ministers of Justice today signed a declaration of intent to improve the cross-border exchange of information on pre-employment checks.
On 6 June 2019, Luxembourg Justice Minister Felix Braz, Belgian Justice Minister Koen Geens and Dutch Minister of Legal Protection Sander Dekker signed a Benelux declaration of intent to improve the exchange of information between the three countries regarding pre-employment checks. Cooperation between the services concerned in the Benelux countries will thus be strengthened.
On the basis of European legislation, a form of verification of potential legal employees is being applied in several European countries, the so-called pre-employment audit. The legal frameworks and methods for this audit differ from country to country. In order to explore the possibility of a wider exchange of information with other Member States for verification purposes, a Benelux working group has been set up, in which Germany has also participated.
On the basis of the recommendations of the working group, and in view of the growing volume of cross-border work between the Benelux countries, there are plans to make greater use of the criminal record checks of neighbouring countries.
With this declaration, the ministers want to pursue two main objectives. On the one hand, they wish to ensure that existing European opportunities are fully exploited, by ensuring a good flow of information within the ECRIS network (exchange programme and interconnection of criminal records between EU Member States), but also by making employers and government bodies aware of opportunities to obtain information that exists. On the other hand, the declaration aims to extend the current practice of pre-employment checks for working with children in all cases where this information can also be exchanged at the national level.
To do this, the three countries will exchange best practices, organise consultations among stakeholders, plan working visits to their respective departments, collect figures and discuss how best to raise awareness among employers.
The Ministers have emphasised that EU legislation and the means made available by the EU form the basis of this cooperation.